More catch up
So much to mention, I'm sure I'll miss a few things out but here goes. It's Khmer New Year next week - when Phnom Penh will resemble a ghost-town as the city residents head out to the provinces to spend time with their families - and our office has given all staff a 4-day break starting Monday. I'll be spending my time locked in my apartment catching up on the guidebook I've been editing for far too long now. It's taken a bit of a back-seat and I need to get my finger out to get all of the content, layout, etc, etc to the publishers ready for publication early next year. I've found editing other people's work to be much harder than just penning a piece myself. Wish me luck, I'll need it. A recent directive from the capital's governor has informed residents here in the city to stop hanging their wet washing on balconies and along sidewalks as it makes the city untidy and "is jeopardizing the dignity and honour of Khmer citizens, who used to be highly civilized". From time to time we get these weird and wonderful instructions. The helmet law, for moto-drivers only whilst passengers are not required to wear them, remains in place but revenue from fines is down as the police decide standing on the side of the road to stop motos in the hot weather of April isn't such a good idea afterall. When the weather cools a bit, the police will be back out in force, also equipped with brand-new speed cameras and breathalyzers I hear. The Phnom Penh Post today revealed what everyone already knows, that bag-snatches and robbery is on the increase in Sihanoukville, whilst the head-in-the sand authorities insist their figures show an opposite trend. Who are they trying to kid? Too many people, including a friend of mine who had her very expensive camera snatched recently, say otherwise.
Meta House continues to be one of my regular venues. Last night I listened to Erin Gleeson talk about an art show, Forever Until Now, she is currently curating in Hong Kong, which is taking the work of 14 Cambodian artists to another country, and seems to be doing very well thank you. The artists include old schoolers like Svay Ken, Rithy Panh and Vann Nath and some of the up-and-coming new breed too. There's also an exhibition of Khmer artists just about to open in Long Beach, California. Cambodia still has a long way to go to get its traditional and contemporary art out into the world marketplace and it's best galleries but it's making steady progress, from very humble beginnings. Just before everyone disappears for the New Year, Meta House will re-screen the documentary Out of the Poison Tree this Friday and on Saturday (both events begin at 7pm), will host the first Hanuman Film Night with Nick Ray and Kulikar Sotho giving their personal take on making films and documentaries in the Mekong region. One documentary that will make its debut very soon is We Want (U) To Know, by filmmaker Ella Pugliese, who took cameras to a village in Takeo province and let the villagers tell their own stories about how they survived the Khmer Rouge. It will be shown at the Chenla Theatre on 7 May. Talking about the KR, the Tribunal this week has been hearing testimony from S-21 chief Duch, mainly about his previous role in another secret prison known as M-13, whilst the first witness, Francois Bizot, who wrote The Gate, about his encounters with Duch in 1971, took the stand on Wednesday. The trial is expected to continue for months to come. Whilst I'm keeping track of what is happening, I've decided not to report the Tribunal events in detail on my blog, as other websites are far better at dissecting what is being heard. Here's
one
.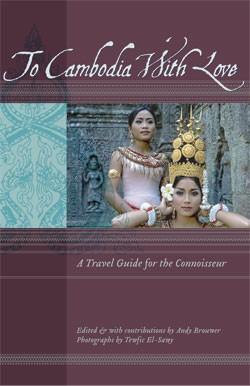 For those interested, here's the draft cover of the guidebook I'm editing, called To Cambodia With Love - A Travel Guide for the Connoisseur, to be published by ThingsAsian Press. Look out for an early 2010 publication date.
Labels: Hanuman Films, Khmer Rouge Tribunal, Out of the Poison Tree