Out of the Poison Tree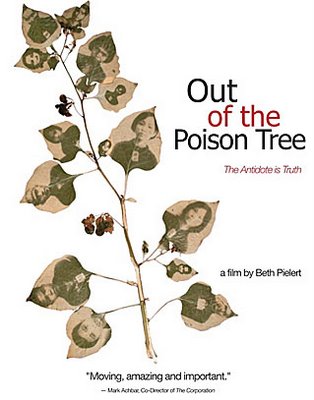 The postman delivered a small package today and in it was the dvd for the documentary film
Out of the Poison Tree
, direct from the filmmaker Beth Pielert, and now available to be seen for the first time in Cambodia, at Phnom Penh's Meta House on Saturday 14th March, at 6.30pm. Beth's beautiful and moving film follows Thida and her two sisters back to Cambodia to find out more about the disappearance of their father and to hear first-hand from Cambodians about the necessity for justice, a trial and forgiveness. The most poignant plea for justice came from a teenage schoolgirl, Davey Heng, standing amongst her classroom peers, in a flood of tears, but determined to state her point of view. As the Khmer Rouge Tribunal readies itself for the trial of Comrade Duch, this film is aptly timed for the voice it gives to ordinary Cambodians as well as well-known figures like Youk Chhang and Aki Ra. Archive footage and music from Long Beach artist praChly complete the picture.
Saturday 14th March - don't forget the date
. If you wish to purchase the dvd, visit Beth Pielert's
GoodFilmWorks
website.
Labels: Out of the Poison Tree, Thida Buth Mam