Tourism Asean magazine & HeritageWatch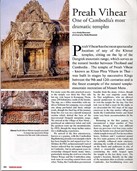 The latest edition of
Tourism Asean
(Jan-Apr 2007) has just landed on my door-mat, and for the third edition running, it carries one of my travel stories from Cambodia. My
'Preah
Vihear - one of Cambodia's most dramatic temples'
story takes up two pages with 5 of my own photos. The magazine is a gorgeously glossy trade magazine published in Singapore and sent to travel agents around the globe, in order to promote the exotic locations of Asia. My previous stories were on the Tonle Sap Lake and the Temples of Kompong Cham. In the latest edition, the main focus is on Malaysia and Koh Samui but most of the Asian countries are included with articles on Myanmar's Indawgi Lake and Vietnam's Quang Ninh province alongside my own.
* * * * *
Another magazine that will feature an article from yours truly will be the next edition of
Touchstone
, the new glossy magazine produced by the NGO, HeritageWatch to help keep a high profile public focus on the richness of Cambodia's heritage and culture and the necessity to preserve it. I picked up a copy of their first edition when I was in Phnom Penh recently and it was literally brimming with excellent and informative articles on a variety of topics from local traditions and attractions, to forthcoming events, the art scene and numerous feature stories on places like Kampot & Kep. And it's free, just pick up a copy in the numerous bars, restaurants and guesthouses. The second edition is going to print as I type and I'm looking forward to immersing myself in its many articles soon enough. I met the HeritageWatch director Dougald O'Reilly in Siem Reap and I know how hard Dougald and his team are working to preserve Cambodia's rich cultural heritage through education projects, tourism campaigns, and as many other means as they can think of. Please support HeritageWatch and visit their
website
to find out more. A word of thanks to Kathy Fossati, HW's Communications chief who was helpfulness personified and gave me copies of two of their excellent comic-style education booklets, Wrath of the Phantom Army and If The Stones Could Speak, both of which are superbly produced, and printed in both Khmer and English. If you want to find out how you can help HeritageWatch, contact Kathy at
kathy@heritagewatch.org
.