Blogger's choice in Phnom Penh
Without hesitation, I recommend the
Dara Reang Sey
hotel in Phnom Penh if you are looking for a family-run base which offers a friendly welcome, affordable rooms between $6-18 per night, good quality Khmer food and a great location near the riverfront. Two sisters, Dara and Reangsey, are in charge and make a real effort to look after their guests. I've stayed there countless times and have never received anything other than a great welcome and first-class personal service. They've recently expanded and opened up more rooms just across the street and have plans to open up a sister hotel in Siem Reap in the near future. To find out more about this home from home in Cambodia's bustling capital, go to:
http://andybrouwer.co.uk/dara.html
.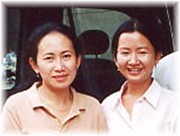 Dara (left) and Reangsey (right) guarantee a warm welcome at the Dara Reang Sey Hotel in Phnom Penh.