Somaly Mam - a real life heroine

A country with a recent past as tragic and uncompromising as Cambodia's is fortunate to be blessed by a small number of remarkably tough and resourceful citizens such as
Somaly Mam
. If you aren't aware of Somaly Mam, she's the president and co-founder of AFESIP, a grassroots NGO which works to combat trafficking of women and children into sex slavery. A book, The Silence of Innocence, will be published in English by Virago later this year. In it, she retraces her own life story, as dramatic as any of the women she now helps, and interweaves the testimonies and the tragic destinies of the young girls she has encountered through her work. She is a woman on a mission and received a worthy accolade in February this year when she was selected as one of eight women to carry the Olympic flag at the opening ceremony of the Torino Winter Olympics.
This Sunday Times article provides an insight into her daily routine:
here
.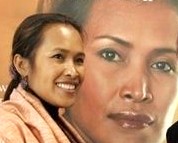 Somaly Mam has also joined forces with the
K11 Project
, who are producing three films - Holly, A Virgin Harvest and The K11 Journey - that expose the real life stories of children abducted into the horrifying world of child trafficking and prostitution. According to the UN, over two million children, some under the age of five, are trafficked and sold to prostitution each year. Somaly is a key figure in A Virgin Harvest, a documentary dealing with personal testimonies, whilst Holly is a feature length film focusing on the story of an underage prostitute. The K11 Journey is the behind-the-scenes story of the three years of work undertaken to uncover the sex trade in SEAsia by the Project team.
To find out more about the worthy K11 Project, go
here
.