Rainy Days and Mondays - unplugged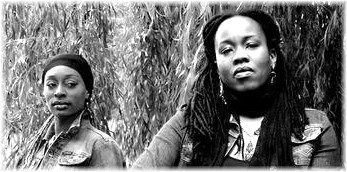 Rainy Days and Mondays : LtoR: Leonie Moore and Indigo
Last night, the Java Lounge in Moseley, Birmingham witnessed the birth of an exciting new singing duo,
Rainy Days and Mondays
- and in years to come I can say, "I was there." Its the brainchild of established Birmingham-based vocalists Indigo and Leonie Moore, who first sang together with the reggae band Gabbidon and found they enjoyed working with one another so much they've teamed up. Now they're ready to launch their sweet harmonies and well-timed arrangements into the public arena and the intimate surroundings of the Java Lounge heralded their debut performance.
Their first set, lasting thirty minutes, began with Bob Marley's Waiting In Vain and was accompanied by Basil Gabbidon on acoustic guitar. The intimacy of the venue allowed the duo to sing without microphones and seven of their ten songs were backed by Basil and his guitar, the remainder were sung to a backing tape. Still The One, Saving All My Love, Feel Like Making Love, Walk On By and a brilliant rendition of Fleetwood Mac's Go Your Own Way concluded the opening set. The easy-listening love song themes continued after a short break with For The Love, Keep It Like It Is (Don't Know Why) and Killing Me Softly before a Leonie/Basil penned track called Sincerity closed the performance to well-deserved applause.
The girls sang beautifully, the harmonies were precise and they complemented each other perfectly - Leonie's voice has a rare quality indeed, while Indigo, who was struggling with the remnants of a heavy cold, is a versatile and talented vocalist - and they show exceptional promise as a duo that will develop and grow with more appearances under their belt. Watch out for Rainy Days and Mondays at a venue near you soon. You can also catch them as part of the Gabbidon/ReggaeRockz band, set to play a series of dates in and around Birmingham over the next few months.
Links:
Indigo MySpace
,
Leonie Moore
,
Leonie MySpace
.