Sweaty palms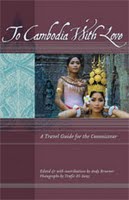 I'm reading through the final manuscript of
To Cambodia With Love
and my palms are sweating. Kim, the series editor, has just sent it to me and told me I have a day to read it through as the final deadline has arrived like a runaway train and my desire for perfection is just about to pass its sell-by date. I've procrastinated long enough, now it's time to face the music and produce what I promised to ThingsAsian, the publishers, what seems like a lifetime ago. Kim has done a fabulous job in picking up the pieces I sent her and I'm very proud of everyone's combined efforts. Nothing is certain in publishing though it looks like TCWL might be out in a few months - but keep it under your hat for the moment.
This morning I took my friend Ting, she's visiting Cambodia for the first time from her home in Taiwan, to Tuol Sleng. She's already seen the city's other major tourist sights on her own but wanted me to explain about Tuol Sleng, the Khmer Rouge, et al. During our visit we met with Chum Mey, one of the three remaining survivors of Tuol Sleng, and who has been in the international press a lot in recent months due to the trial of Comrade Duch, the former director of the detention center where Chum Mey was incarcerated in the final months of the Khmer Rouge control over Phnon Penh. He talked to a small group of British visitors, who were overawed to meet him, completely unexpectedly, with translations provided by their guide, explaining briefly about his detention and torture and thanked them for coming to Cambodia. By the look on their faces, I think he made their Tuol Sleng visit one they'll never forget.
This afternoon I inflicted two games of Cambodian football onto Ting. I don't think she will ever forgive me. She doesn't even like football. They were the opening pair of Hun Sen Cup last 16 games and whilst Phnom Penh Crown just scraped a 1-nil win over Phuchung Neak, Wat Phnom (formerly Spark) went goal-crazy with a 10-1 win over Mekong University. I get the feeling Ting can't wait to get out of town and up to Siem Reap. Little does she know there's two more games for her to endure tomorrow afternoon, before she gets the bus! More on the footy results later.
Labels: Chum Mey, To Cambodia With Love, Tuol Sleng