35 years on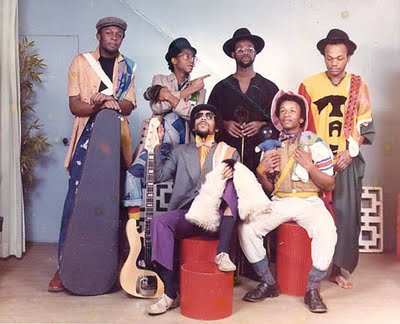 Steel Pulse in all their early 1975 glory. LtoR: Selwyn Brown, David Hinds, Michael Riley, Basil Gabbidon; [front row] Ronnie McQueen, Colin Gabbidon.
35 years ago
Steel Pulse
played their first ever gig. Two of the original band members, David Hinds and Selwyn Brown, continue their musical journey today as Steel Pulse perform all over the globe with recent appearances in Australia and New Zealand, Jamaica, the Virgin Islands and Florida. But it was all very different back in 1974 and 1975 when the fledgling band's rehearsals were moved to David's cellar at 16 Linwood Road in Handsworth, Birmingham, which was to be ther base for the next few years. Selwyn recalls, "we used to rehearse in Ronnie's attic bedroom for a while. Then David's dad let us use his basement at Linwood Road, as we got more serious about it and just started practicing and practicing. We basically taught each other to how to play, so there was no ego thing. We just wanted to play and enjoy music and inspire people and write something conscious."
At the time, Basil Gabbidon and Selwyn were responsible for most of the lead vocals though Colin Gabbidon felt David could take on more of the mantle and did his best to persuade him to do so. Alongside covers of Bob Marley, Peter Tosh, Burning Spear, The Abyssinians and The Gladiators, there were early versions of their own compositions like Nyah Luv, Handsworth Revolution and a rock-soul track that Basil wrote called Conscious. Colin recalls," Basil was writing a lot of music as was David. A lot of things were written in 1974. I think we were finding our identity, that was when we were clicking. We'd been together for less than a year and were working so fast. The excitement was high, we were anxious, we were keen, we wanted to express ourselves. We were serious and our music reflected what we were."
The name of the band posed a problem, which was solved by Ronnie McQueen, who had a passion for horse-racing. He liked the name of one horse in particular, the Scobie Breasley-trained 1972 Irish Derby winner called Steel Pulse and suggested to the rest of the band that they take the name as their own. Everyone agreed. It seemed to fit perfectly.
It was now the right moment to expose the band to public scrutiny. Lee Allen, their advisor-cum-manager at the time and former keyboardist with local band The Phantoms, booked them their first live gig locally at a small working-class public house called the Crompton Arms. A hub for local bands at the time, the pub was located on Crompton Road in Lozells and the audience for their debut performance, in January 1975, numbered the pub's regulars and friends of the band. Selwyn did the majority of the lead vocals as they played a mix of cover versions of Marvin Gaye, Bob Marley and Ken Boothe and some dub numbers. The six-strong band line-up for that debut gig was Selwyn Brown, David Hinds, Michael Riley, Ronnie McQueen, Basil and Colin Gabbidon. It went well, Lee Allen recalls, "all hell let loose, everyone was so excited," the band received the princely sum of
£
20 for their efforts and they used it as a spring board for a handful of gigs at other local venue's like Barbarellas on Cumberland Street and the Grand Hotel in the city centre, the Ridgeway on Soho Road, the Tower Ballroom in Edgbaston, at the former British heavyweight boxing champion Bunny Johnson's club in Digbeth befiore it burned down and they returned to their old school on one occasion to play a reunion gig.
Steel Pulse had begun their musical journey to greatness, one which continues to this day. To find out more, click
here
.
Labels: Steel Pulse