Where's the day gone?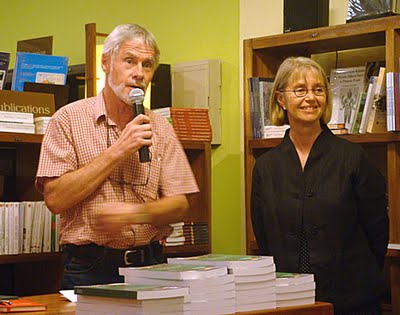 The authors of Cambodians and Their Doctors, Jan Oversen and Ing-Britt Trankell at Monument Books tonight
Not a spare minute in the day. That's my excuse for my lack of blogging. My working day have been full on with visits from hotel sales teams and travel agency partners from Laos and Vietnam. I must finish work early today to get to a book launch, Cambodians and Their Doctors, at Monument at 6pm, then off to Meta House for a film show including Aki Ra's Boys at 7pm and then onto the moto again, this time heading for the Cavern and high volume punk music by Stiff Little Punks. Not sure when I'm going to manage to grab a bite to eat. Any spare time I can find at the moment is being used up on finishing off the manuscript for my travel book, To Cambodia With Love, which we hope will see the light of day sometime this year. I have shamefully dragged my feet with this but there is now light at the end of the tunnel thanks to the pushing, shoving and threatening from the series editor Kim Fay. Gotta run.
Update
:
The book launch at Monument for Cambodians and Their Doctors was well attended and pretty interesting. The authors addressed some of the key topics they covered in their research which included local kru medicine, Western influences in French colonial times and the Khmer Rouge period, up to the present time. It came as no surprise to hear that whilst many believed Western medicines were destroyed under the Pol Pot regime, they were in fact kept hidden and used exclusively by the party hierarchy, whilst non-cadre Khmers received only ineffectual herbal medicines, if anything at all. As for the bookshop, there's a stack of books I'd like to buy but my bank account wouldn't be able to take the strain. I'll have to do it in small doses (staying on the medical theme). There were two films shown at Meta House, both showing disability in Cambodia and both highlighting the positives with a film about the work of Handicap International in Battambang and the other, Aki Ra's Boys. The Stiff Little Punks were exactly what they said on the label, loud thrashing punk rock, just like I used to listen to thirty years ago.