Health in Cambodia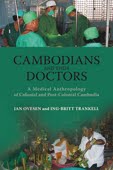 This book sounds pretty specialist though reading the review by the publisher they promise it's more than it appears.
Cambodians and Their Doctors
- A Medical Anthropology of Colonial and Post-Colonial Cambodia
is a 336-page look through the
archives at the arrival of modern medicine in Cambodia during the French colonial period and the existing Khmer health practices, that in the main, still exist today. Published by NIAS, Jan Oversen and Ing-Britt Trankell are the authors and they include sections on indigenous healers, spirit mediums and magic monks as well as the Khmer Rouge health regime. The authors are presenting a lecture on their topic at Baitong Restaurant in BKK1 on Wednesday 13th at 6pm and then there's a book launch at Monument Books the following night at 6pm.
On a totally different topic, Meta House, who celebrated their 3rd anniversary tonight with a party, and who will be moving location in a few months, host a new Khmer dance with How Do You Sound on Saturday night at 7pm. Next Thursday I'll be there with the hour-long documentary Aki Ra's Boys as part of celebration for disabled Cambodians and then a second new dance, Moving Into Feeling will take place on Saturday 16th. The Messenger Band are finally back at Meta House on 22nd together with a positive take on the garment industry in the country.