Foreign aid in football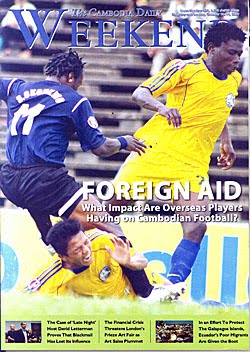 Kudos to Monument Books who were able to supply me with a copy of last week's Weekend edition of the Cambodia Daily. As I was away I missed the article that dominated the edition's front cover:
Foreign Aid
- what impact are overseas players having on Cambodian football?
by reporter Eoin Redahan. I don't know the author of the article, even though I attend all of the CPL games, give or take one or two midweek games, and the Cambodia Daily's usual coverage of Cambodian football is virtually non-existent. So it was good to see they've at last got their finger out of their arse to put this story into print last week. The focus of the story is the question - is their [foreign footballers] presence constructive or destructive? - and comments from the country's national football coach Scott O'Donell were included, alongwith statements from Ken Gadaffi, president of the Nigerian Community Association. Ken reports on local sport for the Phnom Penh Post and as the majority of the 37 foreigners playing football in Cambodia are Nigerian, the author sought out his opinion. As you might expect, Ken views the foreign contribution, the majority of whom are African, as positive (he wants to raise the limit of foreign players at each club), whilst O'Donell's take is slightly different, bemoaning the lack of real quality professionals amongst the imports that can contribute to improving the standard of the local players. It's a viewpoint I agree with. Cambodian football is in a state of flux, the professionalism of the club sides is improving, but there is so much more to be done. Money is a big factor, as the wages currently paid here, will not attract the better standard of pro's that seek their fame and fortune in neighbouring leagues, such as Thailand, Vietnam and Singapore. The most important factor is the development of the local Cambodian players and this will be greatly influenced if more qualified coaches come to ply their trade here and raise the bar in terms of fitness and technique, alongside the recruitment of better quality foreign players - all pretty obvious but it ain't gonna happen overnight. Progress has been made but we're still on the starting blocks as far as Cambodia competing domestically and internationally with their Asian neighbours, let alone further afield.
Labels: Cambodian Premier League, Scott O'Donell