Bookworms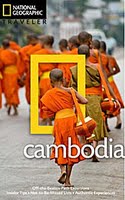 This is a quick-fire update on some of the new
book releases
that have just happened or will be happening sometime soon where Cambodia looms large in the publication. Guidebook-wise, Cambodia is now getting more solo billing and
Moon Cambodia
will publish its first Cambodia-only edition next month, 344 pages, authored by Tom Vater. A smaller guidebook, Moon Spotlight Angkor Wat, will be out in April.
Nat Geo Traveller's
slimline Cambodia (right) will be out soon enough, also next month, 320 pages by Trevor Ranges. And in March,
Frommer's
will put out their Cambodia & Laos edition, by Daniel White, 352 pages.
Keep an eye out for
Carrying Cambodia
, a photographic book from Hans Kemp and Conor Wall that should be out around May. This Thursday is the book launch at Monument Books for
Cambodians and Their Doctors
by Jan Oversen and Ing-Britt Trankell, which I mentioned in a post a few days ago. My good pal Eric de Vries will be publishing his photographic tome
Retrospective 00/10
in the next few months too.
A couple of books I missed at the back end of last year.
Alive in the Killing Fields
by Nawuth Keat with Martha Kendall is aimed at teenagers, 112 pages and the story of Nawuth's survival through the Khmer Rouge time. More of an academic publication is Peg Levine's 260 page
Love and Dread in Cambodia
: Weddings, Births and Ritual Harm Under the Khmer Rouge, from Singapore University Press. And of course don't forget
Beyond the Apsara – Celebrating Dance in Cambodia,
co-edited by Stephanie Burridge and Fred Frumberg, which should be available sometime soon.
Labels: Beyond the Apsara, Moon Cambodia, Nat Geo Cambodia