Never seen before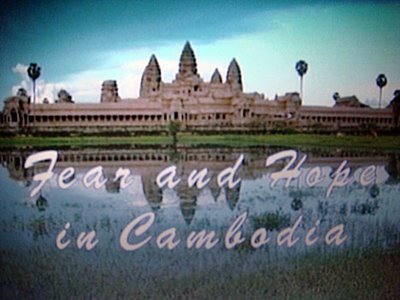 Never seen before in Cambodia is the title for Friday night's (29 May) screening of two films at Meta House in Phnom Penh, as part of their Legacy Film week. I have a list of films and documentaries that have never been shown here, or not seen for a very long time, and where I am contacting the film directors to ask permission to screen the films at Meta House. The response so far has been fantastic, my personal thanks to all of the directors involved, and Friday will see two more films that will be making their public debut.
Fear and Hope in Cambodia
was made in 1993 by Isabelle Abric and written and narrated by author and journalist William Shawcross. It contains lots of previously unseen footage as it chronicles the before, during and after of the history-making elections under the supervision of the United Nations. The second documentary is
The Road From Kampuchea
, made by Anne Henderson in 1998. It tells the story of Tun Channareth, a landmine survivor and ex-resistance fighter who became a disability outreach worker. He traveled to hospitals and remote villages to deliver custom-made wheelchairs to fellow survivors. He then became a spokesperson for the anti-landmine campaign, traveling to Japan and Europe to promote the cause. Eventually, he made it to Canada, where the first international treaty to ban landmines was signed by 125 countries and to Oslo, where he received the 1997 Nobel Peace Prize. We are also treated to the music of chapei master Kong Nai.
Labels: Fear and Hope in Cambodia, Kong Nai, The Road From Kampuchea