Movin' weekend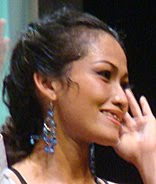 Not sure why or how, but a new dance performance coming up this weekend, had managed to elude me until today. Especially as it includes my favourite Cambodian dancer, Belle (right), and some of the great young dancing talent the country is blessed with.
Movin'
is a contemporary meets classical piece that will be hosted by Sovanna Phum this coming Saturday and Sunday at 7.30pm. Tickets for barang cost $6, $2 for Khmers. With choreography by Yon Davy and the dancers themselves, under the direction of Bob Ruijzendaal, it's another step forward in the cycle of new works by the group known as New Cambodian Artists. Find out more
here
. Belle performed in the Hong Kong Arts Festival earlier this month with Emmanuèle Phuon's piece, Khmeropedies II and will be in Singapore in late May. Then it's off to the United States in June to perform Khmeropedies I and II in New Haven and at the Baryshnikov Arts Centre in New York, and back to Singapore in August. Joining Belle on stage for the Khmeropedies performance will be the absolute cream of Cambodia's dancers: Sam Sathya, Chey Chankethya and Phon Sopheap.
Tomorrow night, as I'm enjoying the luxury of a river cruise, the
Children of the Bassac
will present their final show at the National Museum in Phnom Penh, starting at 7pm and lasting an hour. Tickets are $18 from 012 650 229. They'll perform in eight separate sections of the show including classical Apsara and minority dances. Supported by Cambodian Living Arts, they hope this will lead to more regular performances beginning at the end of this year. This is definitely worth supporting, the dancers are extremely good and the cause is a great one too.
Labels: Belle, Cambodian Living Arts, Khmeropedies, Movin'