Survivor's Story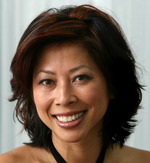 I'm a big fan of
Loung Ung
(pictured), so I'm a bit miffed that I missed this news article from the Ohio Magazine back in February this year. I repeat it here cuz it's still relevant and because she's a real trooper.
Survivor's Story
-
by Elizabeth Weinstein (copyright Ohio Magazine February 2008)
In books and lectures, Cambodian-born Loung Ung promotes peace by recalling a childhood that was marked by war, loss and privation. "This is my baby,"Loung Ung says, her voice swelling with pride as she walks up and down the length of Bar Centro, a trendy new bar and restaurant that she helped bring to life on Cleveland's W.25th Street, in October. It's a weekday afternoon and the restaurant is empty, save for Ung and a few employees, who are busily preparing for the usual after-work crowd to arrive. Stylishly clad in a leather jacket and suede boots, Ung, 37, certainly looks the part of hipster restaurateur. She gestures around the room. "See those beautiful drapes over there?" she asks. "They are from Cambodia. And the lamp in the corner is made out of elephant dung, from Laos!"
She is a silent partner in the venture; Bar Centro is the latest project of her entrepreneur husband, Mark Priemer, and Sam McNulty, who also own adjoining McNulty's Bier Markt, which opened in 2005. Ung had a large role in the design and decor of both restaurants, and considers herself Bar Centro's "official taste tester," a job she does not take lightly. "I'm a complete foodie. I love to eat," she says, with a grin. But Bar Centro is more than just a restaurant or a project for Ung, who lives with her husband in Shaker Heights. "This has been a sanctuary," she explains. "Nobody needs me to save anybody here... When I come here, people tell me about art openings and galleries. People tell me about their babies. People tell me about how they met each other here and then fell in love and got married. People tell me how they love the food." In other words, it's a far cry from the life Ung once knew. Behind the photogenic smile, contagious laugh and positive energy is the story of a life of struggle, extreme suffering and, ultimately, survival.
Ung was born in 1970 in Phnom Penh, Cambodia, the sixth of seven children in an upper-middle-class Chinese-Cambodian family. She was an inquisitive and energetic child, and until age 5, she lived a fairly comfortable, typical childhood. On April 17, 1975, her world changed. A civil war that had raged for five years in Cambodia came to an end that day, and the Khmer Rouge, a communist guerrilla group led by Pol Pot, invaded Phnom Penh. As Ung writes in the preface to her 2000 memoir, First They Killed My father: A Daughter of Cambodia Remembers, "From 1975-1979 - through execution, starvation, disease, and forced labor - the Khmer Rouge systematically killed an estimated two million Cambodians, almost a fourth of the country's population.
As the name of the book suggests, Ung's family suffered profound losses at the hands of the Khmer Rouge. They were forced to flee their home and abandon their possessions and identities - Ung's father had been a high-ranking government official before the Khmer Rouge came to power, and was suddenly in danger. Disguised as peasants, the family traveled by foot from one labor-camp-like village to another, foraging for meals, working in the fields for rations of rice, battling hunger every day and fighting to stay alive. This went on for three years, eight months and 21 days. Ung's 14-year-old sister, Keav, was the first to perish, in 1976, from food poisoning. That same year, soldiers came for her father, and he never returned. Her mother and younger sister Geak were taken away by soldiers while Ung was at a work camp and she never saw them again. An orphan at age 8, Ung was placed in a child-soldier's training camp, where she was taught to use weapons, and to hate. She watched friends die, suffered from sickness and hunger, and narrowly escaped an attempted rape by a Vietnamese soldier.
In 1979, Vietnamese troops defeated the Khmer Rouge army and Ung was able to reunite with her surviving siblings. Her older brother Meng, and his wife, Eang, decided to seek out a better life in Thailand, and then America. They could take only one sibling with them, and chose Loung, because she was so young and full of promise. Leaving her older sister Chou behind was a heartbreaking experience - one that she details in her second book, Lucky Child: A Daughter of Cambodia Reunites with the Sister She Left Behind, published in 2005. In 1980, the three settled in Essex Junction, Vermont, where they began a new life, thanks to the humanitarian efforts of the town's Holy Family Church. Ung was finally safe from physical harm, but she continued to have nightmares, and quickly faced new challenges in a community where her peers could not imagine the horrors she had witnessed.
On the surface, Ung's story has a storybook ending. She survived the vicissitudes of adolescence, attended Saint Michael's College in Vermont on a scholarship, studied political science, and while there, met the person she would later marry - a tall, golden-haired man named Mark, from Cleveland, Ohio. She also reunited with her surviving family - including her sister, Chou - in Cambodia as a young adult, and has been back to the country more than 30 times. But even now, the memories haunt her. After college, Ung took a job at a domestic violence shelter in Maine, working with women who had suffered abuse. In 1997, she moved to Washington, DC to work as an activist, and later a spokeswoman, for the Campaign for a Landmine-Free World (CLFW). As a teenager, she filled her journals with her memories of growing up in a war zone; in her CLFW work, she used her own story to move listeners to action, and to initiate discussions of land mines, war, genocide and the immigrant experience in America.
She credits a specific 1998 event, the death of Pol Pot, with inspiring her to write First They Killed My Father. "I remember very specifically that day and how I was listening to NPR. My office [door] was shut, and I had a big window that faced outside, and there was a beautiful tree, and birds were coming out," she says. 'out in the hallway, my colleague...walked by. I heard his booming laugh, and it just seemed like the world kept moving on, and I was frozen in time, that moment, listening to NPR announcing Pol Pot's death." She recalls that the radio program described the dictator as troubled, charismatic and "grandfatherly," words that made Ung's blood boil. "I just heard that and I got really sick, and curled up in the fetal position and had a good cry in the office," she says. "I thought ...I am going to reconstruct his myth. I'm going to tell it the way it really happened, and hopefully my words will counter those grandfatherly images."
It took her a while to find the right voice in which to tell the story. She wrote several drafts, but ultimately settled on telling her story in first person, with her 5-year-old self as narrator. It was "the one that felt most authentic and that one that appeased me - the fire in me - the most... It was a very angry voice." Throughout the writing process, Ung immersed herself in her turbulent past. At times it was "really brutal," she says. She plastered her office walls with images of people who had been tortured, listened to Cambodian music, and, when writing the scenes depicting her harrowing hunger, she refrained from eating. "I actually would skip breakfast, lunch and dinner just so I would feel it," she says. "Looking back, I'm not sure I'm glad I did that... I had horrible nightmares during those times."
Perhaps due to its alternately heart-wrenching and heartwarming effect, First They Killed My Father struck a major chord with readers. It became a national best-seller, college students studied it in their courses, and fans from around the world wrote Ung letters of appreciation. Celebrities also took notice. In a 2001 Rolling Stone interview, actress and activist Angelina Jolie cited the book as her favorite read of the year. "It used to be that working with campaigns and working as an activist, specifically and wholeheartedly as an activist, was my way of trying to contribute and effect change and get the word out on various issues," Ung says. "Then, on the publication of my first book, I realized 'Wow, words - printed, written words - have a way of doing that, too.'" People can relate to war stories, she adds, "whether it's war in your country or war in your home or war in your community or war in your relationship... But more important, they can relate to the love. They can relate to the desire to want to sit on your father's lap, to the joy of holding hands with your sister and then having that pulled away."
Ung has a hard time standing still. She travels and spends a lot of time in airports, but even so, she avoids escalators and walkways. "What do you do with yourself when you're just standing there?" she asks. "It takes my breath away when I realized how much is out there that needs our attention," she adds. Until recently, she worked full-time on giving lectures around the world on land mines. Now, she's cut down on travel so she can focus more on writing (a fiction project is in the works), and on Bar Centro. It was not an easy decision. "I have been in human rights for so long," she explains. "About a year-and-a-half ago, I just started feeling really burned out. I traveled a ton, but it's the kind of traveling where you go the night before...and then the next morning you fly out, and you're exhausted." Ung often feels torn between wanting to save the world and wanting to do what is best for herself. "There's something so decadent in saying no [to traveling] just because you would be exhausted," she says. "People who went through [war], people who lived through it, don't get a break because they're exhausted." Also exhausting is the knowledge that an activist's work is never done. When she speaks to students, Ung often tells them, "Peace isn't free and it isn't automatic. Its requires commitment. It requires strategy. It requires work. What we do totally matters and I'm very grateful for that," she says, emphatically. "My story is an illustration of that - it's a testimony. I actually was living on the street, eating out of garbage cans, and somebody, somewhere, realized that peace is not an automatic and that changing the world takes work and action... They got out of their comfort zones, they picked up a phone, they traveled to Asia, they sent blankets, they sent medicine, they sent letters and goodwill and hope, and here I am."
Food has played an important role in Ung's life. "I really enjoy food, and I don't know if it's because of the war - maybe a little bit of that. I just enjoy food - the flavor, the sauce, the smell." Often, she prefers to do her writing at Bar Centro's tables, and when she hits a milestone, she rewards herself with food. "I don't have a sweet tooth," she says. "I reward myself with red meat. I like red meat a lot. I could eat steak and lamb every day," she says with a laugh. When in Cambodia, she craves tarantulas, fried crickets and fresh mangosteen and durian fruit. Love has also had a profound impact on Ung, and she grows giddy whenever her husband's name comes up (the couple were married in 2002). Priemer has been to Cambodia five times with Ung, but "he's never seen the genocide museum or the killing fields, and I've actually asked him not to," she says, "because I kind of need him to be untouched by that." Right now, finally, life is good. "I'm not hungry, I'm not desperate," she says, adding with a small gasp, "I'm...happy."