Musical interlude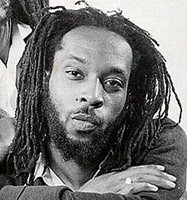 Ossie Gad
(right), part of the songwriting team that made the Natural-Ites such a strong force in British and international reggae in the '80s and then forged a solo career that took him across the globe, will be performing in his home town of Nottingham on 9 August at the Hillside Club alongwith special guest crooner Peter Spence. Gad wrote Picture On The Wall, a classic reggae anthem known worldwide and released two solo albums, whilst working with the likes of Nucleus Roots and Misty In Roots in recent years.
One of my favourite bands on the planet,
Gabbidon
are gigging furiously at the moment and played 3 gigs in 18 hours last weekend; at Josephs Well, Leeds; The Brighouse Charity Gala and the Piece Hall Festival. This coming Saturday they will perform at The Riverside Festival, Stamford Meadows in Peterborough. Their new album, Reggae Rockz, is available on bootleg but I don't yet have a copy....hint, hint!
Finally,
Roy Hill
has posted a collection of his videos on
youtube

and will soon release three more CDs from his back catalogue, Cry No More Live At The Mulberry Tree, Cry No More (previously only available on vinyl and cassette) and the infamous Roy Hill album from 1978. You have been warned!