LP Cambodia 6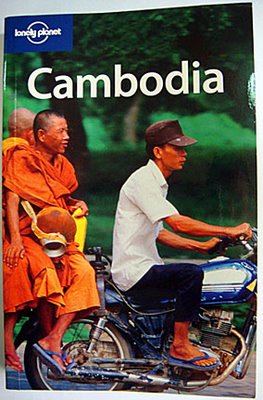 Exclusive!
- Here's the front cover of
Lonely Planet - Cambodia
, the 6th edition, though it's not available in bookshops until next month. This copy is still warm having left the printers in Singapore and found its way to the coordinating author Nick Ray's desk. I've managed to wrestle it from his tight grasp for a few minutes to have a skim through and its bigger and better than ever. Trying to keep abreast of a country changing as fast as Cambodia must've been a nightmare for Nick and his fellow co-author Daniel Robinson, who has returned to the fold after being one of the authors of the first LP Cambodia in 1989, but they've managed it particularly well in my view. The book is forty pages longer than the last edition (August 2005) and there are more words, and lots more places featured, than ever before for the $21.99 price-tag. The photo count has dropped to just 23 - which is probably too few - though the maps remain at 46 and LP have jumped on the eco/green bandwagon with a new Green Dex to accompany the usual index. The numerous fact boxes highlight dining and shopping with a cause and also include interviews with half a dozen notable Khmers including food tycoon Luu Meng and the sweeper of Ta Prohm, Nhiem Chun. The 'our picks' will cause some discussion among travelers in the sleeping and eating sections but I was pleased to see my own fave guesthouse, Shadow of Angkor in Siem Reap, get flagged. Angkor is, as always, comprehensively covered and there's important details on one of the newest destinations to open up, the Cardamom Mountains. LP Cambodia 6 gets a definite thumbs-up from me, and not just because Nick is sat across the office! The big question is - when will the photocopied versions hit the streets of Phnom Penh and Siem Reap?
Another new arrival within the next month, though we haven't seen a copy yet, will be one of the brand new pocket guides from the
Lonely Planet Encounter
series that will focus on
Angkor & Siem Reap
. Created for the savvy visitor on a two-to-five-day trip, the compact guide (6x4") fits easily into your trouser pocket and will cost $11.99. As you might've guessed, Nick Ray is the author.
If you were wondering about some of the other guidebooks on Cambodia, Rough Guide will bring out their 3rd edition for Cambodia next month (authors are Steven Martin and Beverley Palmer), whilst Footprint's 5th edition (author Andrew Spooner) came out a couple of month's ago.