Denise's celebration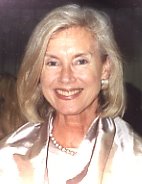 This coming
Thursday (5th March) at 6pm
at Monument Books on Norodom Boulevard in Phnom Penh, one of the most passionate and evocative speakers I've ever listened to,
Denise Heywood
, will give an illustrated talk about her latest book, Cambodian Dance - Celebration of the Gods. This 144-page coffee table book was published at the end of last year by River Books and is a lavishly illustrated celebration of this noble artform. Without reservation, I recommend you attend the talk and buy the book. Denise (pictured) is currently dipping her toes in the sea at Sihanoukville though found time to answer some of my questions to provide some background to both the book and herself.
Q. Lets start with the book itself. What prompted you to write a book on dance in Cambodia?

A. I wanted to write the book because as soon as I first saw the dance in Cambodia I loved it. I've always loved dance and ballet, by the way, throughout my life. But I was so moved by the plight of the dancers during the Pol Pot regime when 90% of them were murdered. The courage and determination of survivors to recreate their lost heritage was inspiring. Although many articles have appeared on their work, I felt a book would do them justice and honour them. The book is dedicated to the dancers who survived the Pol Pot regime. Also the history of Cambodian dance is, in essence, the history of Cambodia, since it goes right back to Angkor and is a part of the spiritual and artistic recovery of the country today.

Q. How long did it take to write and did you have a sponsor for the book?
A. It took me three years to write, but has been in the making since I first came here in 1993 and I had written and lectured on it extensively before the book. Alas I had no sponsorship for the book and financed the work entirely myself. It was a labour of love! But I had the tremendous support and advice of the publisher, Narisa Chakrabongse of River Books. Without her belief in the project it could never have happened. She and all her colleagues at River Books, in particular Paisarn at the Bangkok office, and Chris in the London office, were marvellous. Narisa personally went through all the text and pictures meticulously, helping me with corrections and ideas, suggesting changes and improvements. Thanks to her it was a much better book. I was also indebted to various people who looked at the script for me and I have thanked them in the book.

Q. What do you hope readers will gain from your book?
A. My hope is that readers will gain an understanding of the rich heritage of living arts in Cambodia, of dance's profound connection to Angkor, of which more scholarship will emerge in the future I am sure, and of the spirit of the Cambodian people and in particular the dancers in working to recreate what was so brutally destroyed in the Pol Pot regime. The fact that Cambodian dance was deemed by UNESCO to be part of the intangible heritage of the world speaks volumes for their dedication. Dance is often described as the soul of Khmer culture and studying its history and symbolism is a great insight into Cambodia.

Q. You have written books on Luang Prabang and Cambodian dance, any more in the pipeline?
A. My book on Luang Prabang was equally hard work and is now out in French too. Once again, this was all thanks to Narisa Chakrabongse and River Books. She organised all the drawings and maps which accompany each of the sections on the temples and went through all the text and photos. Like all of the books she produces, it was beautifully designed and laid out. For the moment I am thinking around several other projects in the pipeline related to my focus on the art of Southeast Asia. To answer two questions at once, my focus has been Angkor in particular, but I lecture and write on Laos, Vietnam and now on Bali and Java. The dance of Bali is of great interest to me at the moment. In Britain I lecture for NADFAS, (the National Association of Decorative and Fine Arts Societies) and also now on the SOAS (School of Oriental and African Studies, University of London) post-graduate Asian Art Course in conjunction with the British Museum and the Victoria and Albert Museum. I also lecture to many other travel, art and cultural organisations and to schools, to sixth forms, particularly on Cambodia.

Q. What sparked your interest in Southeast Asia in the first place? And especially Cambodia? What are your particular interests?
A. My interest in Cambodia, and Southeast Asia, was pure chance - perhaps destiny! I came here travelling in 1992 for six months and as soon as I arrived in Cambodia, in January 1993, fell in love with Angkor. I came for a week and stayed for three years. Angkor, dance and Luang Prabang are my specialist areas since I've written books on them, but as mentioned earlier I do lecture on other areas. The history of France in Vietnam is of particular interest to me as well.

Q. You live in London now, how often do you come back to SEAsia? Tell me more about your lectures.
A. I do come back here at least once or twice a year, bringing cultural tours to Angkor and Laos, and lecturing on cruise-ships. It's really a great honour to do these. And it enables me to escape the terrible English winters! As for lecturing, I was originally a journalist, but when I went back to England in the mid 1990s people were so fascinated by Cambodia, which was less known at that time, that they asked me to give talks which I was able to illustrate with photos since I am also a photographer. These just escalated and I started giving more and more. I never had any training, but just watched other lecturers and decided how I would present my own. I did a lot of work on the content, studying in great depth in the SOAS library. Becoming a lecturer for NADFAS was a great honour as this gave me many wonderful opportunities to lecture all over the world, as they have organisations in Australia, New Zealand, Spain, France, Germany, Holland and elsewhere. Thank you for describing my lectures as passionate and evocative - perhaps that's because they come from the heart!
Click here to visit Denise Heywood's own website.
Labels: Cambodian Dance, Denise Heywood