MAG welcomes verdict
A statement from the Mines Advisory Group website earlier today: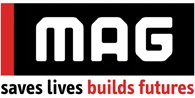 MAG welcomes verdict in murder and abduction trial of its employees in Cambodia
The international charity Mines Advisory Group (MAG) welcomes today's guilty verdict in the trial of those responsible for the abduction and murder of MAG employees Christopher Howes and Houn Hourth near Siem Reap, Cambodia, in 1996. "Today, we feel that justice has been done for our two colleagues who were brutally murdered whilst carrying out life-saving work," said MAG Chief Executive Lou McGrath. "For more than twelve years the families of our colleagues have been fighting for this verdict and we are all extremely satisfied with today's outcome. Hopefully now, the loved ones of Chris and Hourth can finally move on with their lives."
"My father Roy Howes and I welcome the verdict of the court and feel that at last justice has been done," said Patricia Phillips, sister of Christopher. "Although we have never sought revenge, we are pleased that the murderers of Christopher and Hourth have been brought to account. I am just sorry that my mother, who sadly died in 2007, has not lived to see that justice has finally been done."
"We are enormously proud of Christopher - he did not leave his team although he had the chance. Such actions when you know the danger you are faced with, take an enormous amount of courage. He was an extraordinarily brave man, dedicated to assisting the people of Cambodia to rid their country of landmines and was awarded the highest posthumous award for his bravery, the Queens Gallantry Medal, in 2001."
MAG also hopes this case will highlight the urgent need to protect humanitarian workers as they carry out life-saving work across the world. "There are people like Chris and Hourth working all over the world trying to help victims of disaster and conflict, it is simply unacceptable for the safety of such workers to be compromised or for them to become targets themselves," added McGrath.
Christopher Howes had been working with MAG in Cambodia since 1995 and was dedicated to assisting the people of Cambodia, one of the most heavily mined and unexploded ordnance contaminated countries in the world. Twelve years on from this tragedy, MAG continues to carry out life-saving work in Cambodia, helping the most vulnerable households in mine-affected communities who require extension of agricultural land, schools, health clinics and temple construction, road access and clean water sources.
Link:
MAG