Guilty of murder
The guilty verdicts and twenty year jail sentences were handed down to Khem Nguon, who was known to be the 2nd in command of the Khmer Rouge forces at Anlong Veng behind his mentor Ta Mok, Loch Mao, who witnesses identified as the man who shot Christopher, and their driver Puth Lim, who admitted to being present at the murder and to burning the body. A fourth defendant, Sin Dorn was found guilty of kidnapping the deminers and received a ten year jail sentence. A fifth man, Chep Cheat was acquitted of all charges.
Immediately after the verdicts, the Mines Advisory Group, the charity for whom Christopher and Hourth were working at the time of their murder, released a statement from Christopher's sister, Patricia Phillips. "My father Roy Howe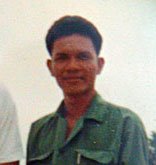 s and I welcome the verdict of the court and feel that at last justice has been done. Although we never sought revenge, we are pleased that the murderers of Christopher and Hourth have been brought to account. I am just sorry that my mother, who sadly died in 2007, has not lived to see that justice has finally been done. We are enormously proud of Christopher - he did not leave his team although he had the chance. Such actions when you know the danger you are faced with, take an enormous amount of courage. He was an extraordinarily brave man, dedicated to assisting the people of Cambodia to rid their country of landmines and was awarded the highest posthumous award for his bravery, the Queen's Gallantry Medal, in 2001." Hourth's widow Chhun Kham when asked by reporters about the compensation award, said: "money cannot compensate for my husband's life." Christopher was 37 years old and Hourth (pictured right) just 30 when they were killed.
The investigation work completed a decade ago by the Cambodian team working alongside the British police led by Mike Dixon, put together much of the evidence and witness statements which persuaded the three presiding judges of the guilt of the accused. Investigating judge Iv Kimsry had spent the last year and a half involved in examining the evidence and the guilty verdicts announced today were the result of that painstaking work behind the scenes. I attended the 1-day trial on 3 October and heard just the tip of the iceberg of evidence that weighed against the accused men, all of whom denied the charges against them. Today, the court delivered the guilty verdict twelve years after this brutal crime, bringing closure for the families of the deceased men.

For more on Christopher Howes, please visit my website
here
.