Casualty's 20th birthday in Cambodia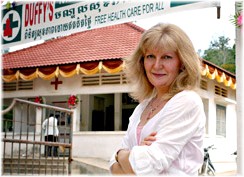 We're just days away from celebrating the 20th anniversary of the popular BBC tv medical drama,
Casualty
and their double episode that takes their central characters on a journey to Cambodia. Duffy, played by Cathy Shipton (above), opens a rural clinic with the help of her old pals Charlie, Abs, Guppy and Comfort, and of course the usual selection of medical emergencies. Back home, in exchange for the medical staff whizzing off to Cambodia, a Khmer doctor is on an exchange visit to England, played by actor Bounsy Luang Thinith. The two episode curtain-raiser for the new series take place on BBC1 at 8.20pm on Saturday 23rd, and 8pm on Sunday 24th. In an interview with The Daily Record, Cathy Shipton was gushing in her praise of her 4-week visit to Cambodia; "... it was an amazing experience and going there made me realise how lucky I am. The poverty is awful but I'll always remember how welcoming the people in Cambodia were. They smiled morning, noon and night....I'd love to return and teach in a school for a couple of months when my daughter is a bit older. It is a wonderful country."