Putsata Reang - journalist, author & teacher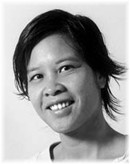 Putsata Reang (pictured), journalist and author, was born in Cambodia thirty years ago and has now returned to the country of her birth to help train investigative reporters of the future in Phnom Penh, having received much acclaim for her own book, Deadly Secrets: From High School to High Crime, published in 2001. Born in Ream, Cambodia, she escaped with her family in 1975 and was raised in Corvallis, Oregon, where she worked for several newspapers, including the Seattle Times, the Spokesman Review (Spokane, WA), the Oregonian (Portland, Oregon) and the San Jose Mercury News. As a reporter she covered the crime, the investigation, the trial, and it's aftermath of a series of brutal murders by two high school dropouts which she illuminated in her book, Deadly Secrets.
She returned to Cambodia in February 2005 on a journalism fellowship through the Alicia Patterson Foundation to write a series of stories on land issues (namely land grabbing). Now living in Phnom Penh, Putsata is currently working as the resident advisor for the Internews Network, which has
implemented a series of journalism training activities for Khmer-language print journalists and editors. The project's core focus has been on strengthening the ability of Cambodian journalists to pursue in-depth, balanced, investigative reporting and her work, which began in November 2005, is soon coming to an end. She and her assistant advisor
Moeun Chhean Nariddh have worked closely with a dozen journalists, providing
guidance as they select story ideas, formulate and carry out work plans and write and publish investigative stories. Its all designed to raise the standard amongst the top journalists working in Cambodia today and to utilise the experience and expertise of a successful writer like Putsata. After the program ends, she'll be heading home for a holiday and to resume her own career as a journalist.