Images of the Gods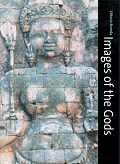 Vittorio Roveda's latest publication,
Images of the Gods
, is an impressively comprehensive undertaking which presents the author's own meticulous research into the meaning and messages of the vast array of Khmer motifs and myths portrayed in the temples of Cambodia, Thailand and Laos. On lintels, pediments, statues and in bas-relief, the lives and legends of Hindu gods, adopted and transformed from Indian sources and Buddhist themes, come to life. And in this encyclopedic tome, Roveda examines those themes in rich detail.
An expert commentary of the Hindu myths is presented in sections on Vishnu, Krishna, the Mahabharata, Rama and Shiva. The lives of lesser gods and deities like Brahma, Ganesha, Garuda, Indra, Rahu, Yama and Hanuman are explained. The majority of reliefs illustrate mythological and religious narratives, some dealing with real life events such as battle scenes and royal processions, others show scenes of daily life and tapestry reliefs with floral motifs and figures. Decorative elements on lintels, walls, pilasters and door-frames include apsaras and devatas, dvarapalas, kalas and makaras and free-standing sculpture such as nagas and lion guardians. In addition, the Buddhist legends reveal sacred text from the Jatakas and the life of Buddha, as well as the cult of Lokeshvara, most famously celebrated at Banteay Chhmar and other temples built by Jayavarman VII.
In the second part of the book, this incredible array of visual narratives are described and illustrated as they appear at over 100 Khmer temples at different locations throughout Cambodia, Thailand and Laos. In each section of the book, Roveda includes numerous photographic examples to accompany his descriptions and to enable readers to identify the myths for themselves. In fact, no less than 2,400 colour images are included in the text and on a supplemental DVD. River Books of Bangkok published the book earlier this year, it has 544 pages, and is an essential companion for anyone with more than a passing interest in Khmer mythology and symbolism.
Roveda is currently collaborating with Dawn Rooney on a guidebook to the temples of Cambodia, that'll cover both Angkor and beyond, a book that will benefit from both authors' insatiable love and respect for Khmer history. For more on Vittorio Roveda, click
here
.