More music
Yaz Alexander
and The Tribunes paid a fitting tribute to the memory of Mikey Powell in last night's 3rd Anniversary Event at the Rainbow in Digbeth, Birmingham. Mikey Powell died in police custody in 2003 and his family and friends ensured that last night's event turned into a night of celebration of his life alongside the launch of a new CD from the makers of the film Injustice, featuring tracks by both artists and many more. Yaz had the crowd on their feet with another typically powerful vocal performance of tracks including This World, Freedom and I. To read more about the Mikey Powell Campaign for Justice, click
here
.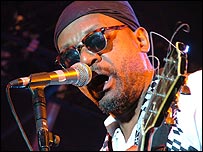 Tomorrow night,
Gabbidon
will take the stage in Birmingham City Centre as part of the city's annual ArtsFest, at 9.30pm. The band is the brainchild of ace guitarist Basil Gabbidon (pictured), who has been a leading light in the city's music circles for the last thirty years, having co-founded reggae legends Steel Pulse and had success with his own bands, including Bassdance. Basil plays a key role in the ArtsFest, having lured his old companions, Steel Pulse, back to play an open-air gig at last year's ReggaeRockz event. Gabbidon also have two future gigs lined-up at The Jam House in St Paul's Square, Birmingham on Wednesday 27 September and again on Wednesday, 29 November. I recommend you get along and enjoy their absorbing mix of reggae, ska and rock.
Another date to note in your diaries is Sunday 19 November when reggae singer-songwriter
Jean Mclean
, backed by the Memphis band, will take centre-stage at the Ipanema Bar in Broad Street, Birmingham, singing her own material as well as a tribute to Dennis Brown. Find out more about Jean Mclean
here
.