Child survivors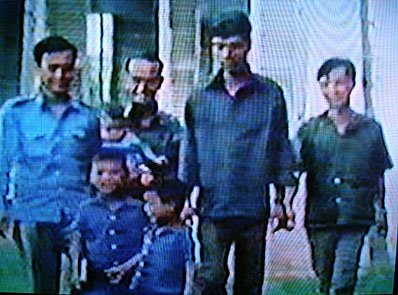 The screen capture is poor but so is the quality of my Year Zero dvd, but these are the 4 male survivors with the children in early 1979. Vann Nath is the tallest of the men.
I am a little bit confused, though it doesn't take much to befuddle me sometimes! It's concerning the recent flurry of press talk about the
child survivors
of Tuol Sleng, aka S-21, once the Khmer Rouge took flight as the Vietnamese army rolled into Phnom Penh at the beginning of 1979. It's been suggested that the fact that children were amongst the survivors of the horrific Tuol Sleng prison was only really identified when the Vietnamese recently donated archival footage a couple of months ago, of the first few days after Tuol Sleng had been liberated. Bullshit. Even I knew there were child survivors of Tuol Sleng way back in 1979, as footage of them appeared on John Pilger's documentary Year Zero: The Silent Death of Cambodia, when it was aired in October of that year. Four male survivors including Vann Nath and Ung Pech are shown with four tiny boys, as Pilger relates that just eight people survived from the thousands killed at the prison. Two of the boys, brothers Norng Chanphal and Chanly, have now been identified and have stepped forward to offer themselves as witnesses for the forthcoming trial of the S-21 chief Duch. In addition, Vietnamese photographer Ho Van Tay is helping in the hunt for the children, as he was one of the very first people to enter Tuol Sleng after the Khmer Rouge evaporated, and kept in touch with some of the children during the 1980s. It's his pictures that hang on the walls of the individual cells of Block A. So my question is, had no-one thought to seek out these children before now, and it sounds like the answer to that question is a resounding no.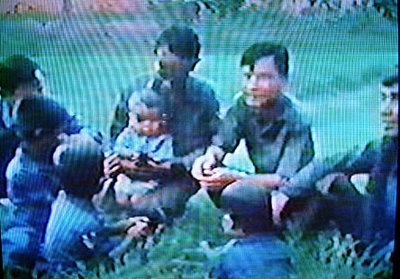 Another poor quality screen capture but it shows the 4 men and the 4 young children, quoted as S-21 survivors by John Pilger in 1979
Labels: Khmer Rouge, Tuol Sleng