Meta tips
I won't be in Phnom Penh for a few of the
Meta House
events this month but here's my pick of what they've got lined up. A precursor to the first Khmer Rock opera, Where Elephants Weep, which will run from 28 Nov til 7 Dec, will be held at Meta House on Tuesday 18th (8pm start), whilst Shooting The Messenger, this coming Saturday 8th, will encourage debate about the value of edutainment, hosted by the man behind Khmer Mekong Films, Matthew Robinson. There are a handful of evening events with locally-produced documentaries at their core, focusing on such diverse topics as NGOs in Cambodia (there are over 6,000 of them), human trafficking, ecosystems (including a showing of Prey Lang on Friday 21st), the life of children, the Khmer Rouge legacy and the contemporary music scene. Enough to get your teeth into I reckon. There's also a showing of the Palace of Dreams film about HIV and youths at risk on Tuesday 25th, and a Friday 28th run-out for the exclusive Kampuchea: Death & Rebirth documentary. You can catch the Meta House schedule at their
website
or visit them at Street 264, near Wat Botum.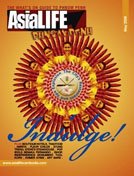 A tip for anyone who isn't aware of its existence. The
AsiaLIFE Phnom Penh
guide is an absolute must-get magazine produced at the start of each month and focuses on the month ahead. It's a gorgeously produced, full-colour mag, over 100 pages and it's free. It concentrates on forthcoming entertainment and cultural events, food and drink but be quick, once it hits the streets, it disappears like lightning. The front cover of the mag in May contained a photo of my favourite waitress at the Thai restaurant of Bai Thong. Good choice Ed.
Finally, I've just heard that 4 concerts will take place in Cambodia this month and next, as part of a campaign against human trafficking by the music television giant MTV. The highlight will be a 7 December gig by The Click Five and other bands at Angkor Wat, with other shows at Ochheuteal Beach in Sihanoukville and in Kompong Cham, and a 12 December wrap-up concert at the Olympic Stadium in Phnom Penh, to coincide with Cambodia's National Day to Combat Human Trafficking. Rock on for a good cause.