Upcoming
A quick round-up of a few items. Last night's
Cambodiana
documentary at Meta House was a mite disappointing to be honest. It was a simple camera follows-three-naturalists into the Cardamom Mountains and besides the camera shake, the quality of the camera itself was a million light years away from the Nat Geo standard we've come to expect these days. Mind you, if I'd been trekking in the Cardamoms for 2 weeks, my hands would be shaking too. We saw a few birds and other creatures but nothing to write home about, unless you are a twitcher. Tonight should be better, a docu on travelling through Burma.
Lots of media coverage yesterday for the forthcoming opera
Where Elephants Weep
, an East-meets-West blend of traditional Cambodian music and Western rock that is modeled on Tum Teav, the Khmer version of Romeo and Juliet. The show will have a 10-day run next month in Phnom Penh and is the brainchild of Cambodian Living Arts. Watch out for this groundbreaking production starting on 28 November. The 4th annual Angkor Photography Festival begins on 23 November and I hear Phnom Penh will have one as well this year, organized by the French, so I won't even be able to read their promo leaflets! Last night the Phnom Penh International Music Festival began but it's a Germany-inspired classical Baroque music series of concerts so holds precisely zero interest for me.
Of considerably more interest is the Cambodian government's very vocal desire to sign the December treaty to ban cluster bombs and munitions around the globe. These silent killers still claim victims in eastern Cambodia in Kratie and Kompong Cham provinces, usually children who find and play with the bomblets or villagers who use the ordnance for scrap metal. This was the subject of the Skye Fitzgerald film,
Bombhunters
, which you can find out more about
here
.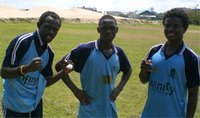 I spotted a story in LePetitJournal.com about three of the African players who turn out for my footy team in Phnom Penh, Bayon Wanderers. There's a fair few Africans over here in Cambodia, plying their trade with both professional and amateur football teams, and a few of the lucky ones are making a tiny bit of money with the sponsored teams, hoping that they will get spotted and snapped up by the larger professional sides in other Asian countries. The story of Daniel, Baba and John is a common one. They were given promises by African agents in their own country of Cameroon, that there were riches to be had playing pro football in Thailand. Duped into parting with agent's fees and making the trip to Thailand, the promises were never fulfilled and they had to move on, Cambodia being their next destination. Here they are keeping fit playing with Bayon but they really need to make some money for themselves and their families back home, so they will be willing to give their talents to the highest bidder, in fact, any bidder. The story in French is
here
.