Match killer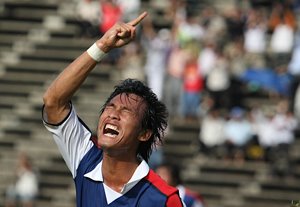 Match killer Khim Borey - by Jean Loncle, Cambodge Soir Hebo
This is how much it means to
Khim Borey
, the Cambodian striker who netted the winning goal against Brunei on Saturday that took his country through to the Asean football championships to be held in December. The Armed Forces player, who was singled out by Cambodia Head Coach Prak Sovvanara as the "match killer" took his tally to three goals in the recent 5-team tournament, bettered only by his teammate Sam El Nasa, who netted four times. For once, thanks to Borey's winner, Cambodia will be battling it out with the big boys of Asean football, with Thailand and Singapore acknowedged as the top pairing. Sovvanara, who took over the coaching role after a series of changes at the top and steered the team through a rocky preparation for the tournament but onto ultimate success, said of Borey; "I didn't think he could play so professionally like he has this year because he was in very poor form last year. He was really bad, and now he has improved a lot. Borey himself, summed up his feelings after their success; "I am very happy to come out of this tournament a winner and I profoundly thank my coach and teammates, who have tried their best for the pride of our country." Both Khim Borey and Sam El Nasa will need to be firing on all cylinders come the team's 2008 AFF Suzuki Cup championship opener against highly-fancied Singapore on 5 December. Come on Cambodia!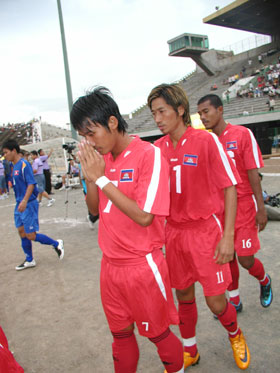 Cambodia's 3 best players of the tournament. LtoR: Khim Borey (7), Chan Rithy (11) and Sam El Nasa (16) - by May Kunmakara, Phnom Penh Post

For more of Jean Loncle's Cambodia photography, click
here
.