A volcanic temple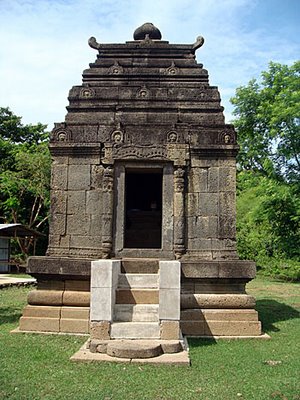 The recently-restored Kuk Preah Theat temple at Phnom Han Chey
You may've thought the chapter on Phnom Han Chey was closed, well think again. This small mountain has much to reveal including this very unusual prasat, known as
Kuk Preah Theat
, which is located on the lower side of the mountain - essentially, a large hill - overlooking a beautiful stretch of the Mekong River. It has been restored in the last couple of years with donations from the US government as it was in severe danger of breaking apart and is now sitting in a well-tended garden with the foundations of another ruined prasat next door. I first visited Kuk Preah Theat in 2000 and described the place as 'dark and brooding' which is certainly isn't these days. Then, the temple was surrounded by thorny undergrowth and was a stone's throw from the river; nowadays, its much further from the riverbank and in fact a road has been constructed between the two. I was told the location of the temple hasn't changed, but I beg to differ. Nevertheless, the Chenla period late 6th/early 7th century prasat is constructed of basalt, a volcanic rock that was rarely used by the temple builders as far as I'm aware and only a few examples exist. One of the reasons is that trying to carve this rock must've been a tough task, as can be seen by the fairly primitive carvings on its exterior. However, the mysterious faces are interesting, forty of them in all - I'd love to know who they represent - together with a lintel in pre-Angkorean style. It's an unusual and intriguing temple and combined with the other structures on Phnom Han Chey, make the 20km trip north from Kompong Cham city well worth the effort, especially as the road is now in good condition.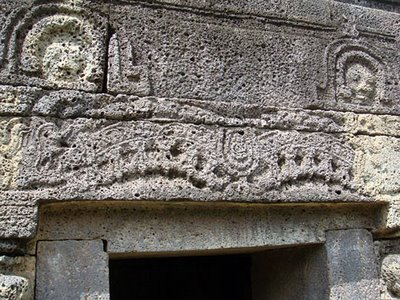 The primitive carving of a late 6th century lintel and faces at Kuk Preah Theat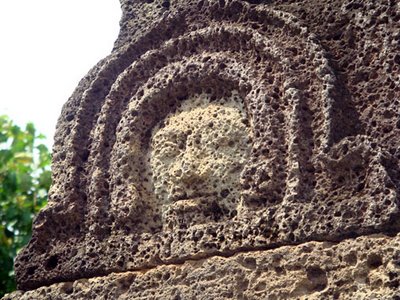 Who does this mysterious face belong to? Any suggestions?