CNN Top 10 Hero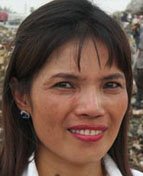 Recognition for the work that

Phymean Noun

(right) and her team at People Improvement Organization in Phnom Penh are doing to provide schooling and job training for
hundreds of Cambodian children who work in Phnom Penh's trash dump at Stung Meanchey and elsewhere, has arrived in the shape of selection as a Top 10 CNN Hero.
"I can't believe that CNN has selected me", Noun said. "It is amazing that CNN has taken the time to produce a program to profile people who are doing selfless work in the world". She was selected by a panel that included Archbishop Desmond Tutu and Sir Richard Branson. She will receive
$25,000 and will be honored at CNN Heroes: An All-Star Tribute, to be broadcast from Hollywood on 27 November
. A poll will determine who receives an additional $100,000 for receiving the most votes. For more on the work of PIO, click
here

.