A different story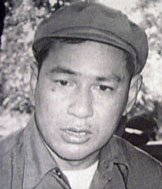 The performance of a frail and bowed
Khem Nguon
at last Friday's murder trial for the five accused of the abduction and killing of Christopher Howes and Houn Hourth, was a world away from the swagger and media-savvy style of the last leader of the Khmer Rouge. For much of 1998 it was Nguon (pictured), with a hot-line to the world's press, who claimed to have succeeded Pol Pot and then Ta Mok as the head of the Khmer Rouge forces in Anlong Veng, though his story sounded very different as he pleaded for leniency in the courthouse last week. Denying his involvement in the military side of the guerrilla force, he claimed instead a role as a cadre involved with the local farming community and pooh-poohed the notion that he was the chief lieutenant of Ta Mok, instead offering up the deceased Khem Tem in that role. It remains to be seen whether Khem Nguon will be convicted of the murder of Christopher Howes, but it's worth a reminder of some of the story behind this former Khmer Rouge leader.
Blog posting dated 21 November 2007:

Khem Nguon
was charged last week by the Phnom Penh Municipal Court with the kidnapping and murder in 1996 of Christopher Howes, a British demining expert from Bristol in Southwest England, working in Cambodia with the Mines Advisory Group. Howes and his interpreter Houn Hourth were captured by Khmer Rouge guerrillas in a remote village in Siem Reap province in March 1996, transferred to the KR stronghold of Anlong Veng and murdered. Though Nguon denies his involvement, it's alleged that he supervised the killing on the instructions of his commanding officer, the brutal one-legged Ta Mok. Arrested alongwith Nguon were Loch Mao, a CPP-affiliated district official in Anlong Veng, who is alleged to be the man who pulled the trigger, and Chep Cheat, believed to be their driver. Further suspects are also being sought. [Puth Lim and Sin Dorn were subsequently arrested and charged].
I've peered into the murky world of the Khmer Rouge to try to find out more about Khem Nguon but as you might expect, permeating a guerrilla organization isn't easy sat at a desk and hard-line fighters don't as a rule issue detailed biographies. However, Nguon, 58, originally from Takeo province, joined the Khmer Rouge movement in the '60s and was a Ta Mok loyalist from the days when 'The Butcher' ran the Southwest Zone with an iron fist. After the Khmer Rouge captured Phnom Penh in April 1975, Nguon served in the Military Division 502, an air-force unit. Later, he was sent to Shanghai in China for three years of military training specializing in radar, air-strikes and artillery. In an interview with the Phnom Penh Post in 1998, Nguon said he did not return to Cambodia until after the 1979 ousting of the Khmer Rouge by the invading Vietnamese when he joined Ta Mok's forces at their Anlong Veng base in northwest Cambodia as the Chief of Military Division 980.
During 1997 and 1998, Nguon was a key player and very vocal in the internal drama within the Khmer Rouge leadership over the control of the movement. After Pol Pot had his Defense Minister Son Sen and his wife Yun Yat executed in June 1997 over their alleged secret negotiations with the Phnom Penh government, Ta Mok with Nguon, as his chief lieutenant, arrested Pol Pot alongwith senior cadre, Saroeun, San and Khan. The resultant show-trial of Brother Number One was held on 25 July 1997 and all four were convicted of betraying the movement; Pol Pot was placed under house arrest, the other three cadres were executed. At the time, Nguon courted the media and told reporters he had destroyed Pol Pot and rid the world of a tyrant. After Pol Pot's death in April 1998, Nguon said he had hoped to hand over Pol Pot to a war crimes tribunal but he'd died of a heart attack. His quote at the time was; "What I can tell you is that he was quite old and he dropped his life like a ripe fruit."
Just days later, he was again in the news when he announced he'd replaced his long-time mentor Ta Mok as commander of the Khmer Rouge, had changed their name to the National Solidarity Party and was making peace overtures to the Cambodian government, citing; "…to bring about national reconciliation where all parties announce an end to the war which no one has won, no one has lost." With the Khmer Rouge in their final death throes, Nguon and half a dozen military generals finally surrendered to the Cambodian government on 6 December 1998 in exchange for amnesty and exemption from prosecution. He said he brought with him 5,000 troops and 15,000 civilians living under KR control. However, less than a month later he was threatening a resumption of hostilities if attempts were made to arrest other former Khmer Rouge leaders. It seems Khem Nguon had a quote for most occasions and a hot-line to the world's press around that time. He's been conspicuously silent in more recent years.
A part of Nguon's amnesty was the award of a position as Brigadier-General in the Royal Cambodian Armed Forces, acting as an advisor to the defence ministry. One of his most recent responsibilities with the RCAF was to participate in the military commission tasked with resolving border issues with Thailand. He speaks Chinese, Thai and reasonable English and has been living in Phnom Penh until his arrest. In an interview with the Phnom Penh Post in 1998, Nguon claimed he was not present at the shooting of the British de-miner, though he had spoken to him before his death, the shooting was ordered by Pol Pot and supervised by Saroeun, one of the cadres tried and executed after the Pol Pot show-trial. However, eyewitness testimony provided to British police detectives tells a different story. It alleges that Howes was shot from behind on the order of Ta Mok and his deputy Khem Nguon, who supervised the killing and was the last one to speak to him. The Scotland Yard report named those responsible as Ta Mok, Khem Nguon, Colonel Kong, the cadre who pulled the trigger and three members of Nguon's bodyguard unit, known only as Rim, Lim and San.
Until now, the Cambodian authorities have not had the appetite to arrest the men responsible, despite lobbying from the former British Ambassador Stephen Bridges that resulted in deputy prime minister Sar Kheng saying that any prosecution must wait until the time was right. That time arrived last week and Khem Nguon is now in custody awaiting trial, alongwith two Khmer Rouge cohorts. If found guilty, the men face sentences of between 10 and 20 years imprisonment.
For more on Christopher Howes, please visit my websi
te here
.
Photo courtesy of Phnom Penh Post
.