Answers to Intrigued?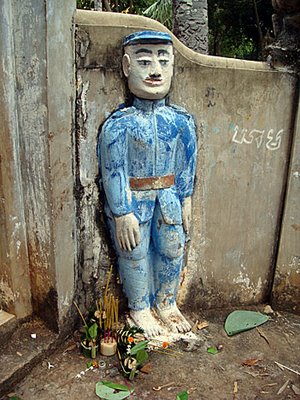 Answers to the Intrigued? question as follows:
The blue military-style cartoon character above was on guard at the entrance to one of the gates at Wat Han Chey pagoda. I first visited Han Chey in December 2000 and it was a quiet place offering great views across the Mekong River. On last weekend's visit, it was anything-but quiet, the whole pagoda was awash with people celebrating the P'chum Ben festival and in addition, many new temple buildings had been erected. I couldn't find out any other information about the guardian at the gate but I thought he wouldn't look out of place in a children's playground.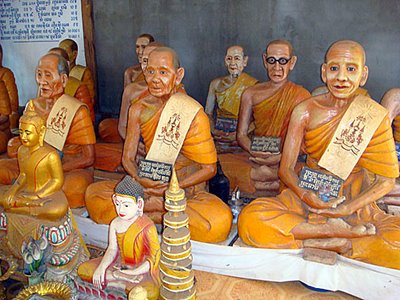 In another of the recently constructed buildings at Wat Han Chey, about 15kms north of Kompong Cham city, is a low-ceiling building with some quite remarkabe life-like wax figures inside. These are recreations of some of Cambodia's most revered and famous monks, sixteen in total, that draw the faithful in to honour them and to wish for good fortune. In the UK we have Madame Tussaud's where the famous are recreated in statue form, and here was Cambodia's religious version.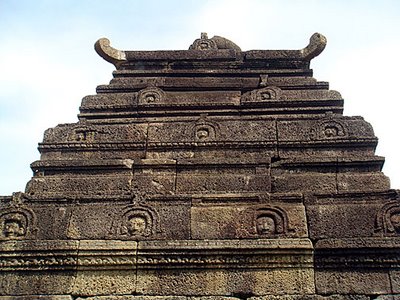 The mysterious face in stone will remain unknown for the time being. It is one of forty such faces that adorn the upper levels of the very unusual temple of Kuk Preah Theat that has recently been rebuilt with the aid of a grant from the United States. It now sits in a pleasant garden setting at the foot of Phnom Han Chey, overlooking the Mekong River and is constructed of a dense volcanic stone known as basalt. I will post more pictures from this temple and the prasats of Wat Han Chey in the next few days.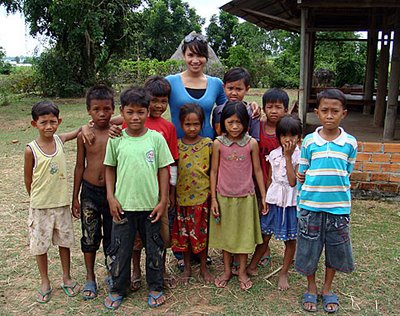 Finally, the game of follow my leader was as a result of my search for ruined temples in the Kompong Cham countryside. I stopped off at a pagoda called Wat Vihear Thom and soon after was walking through rice fields, both dry and wet, on the hunt for lintels, pedestals and carvings at two separate locations. Both were a few kilometres from any road so it necessitated a walk across fields and dykes and as is often the case, when a
barang
starts walking in the fields, we were quickly joined by a small group of inquisitive children. Here's a photo of my translator and good friend Sophoin at one of the sites with ten of the kids.