30th anniversary for Handsworth Revolution
Anyone who knows me will be aware that I have a terrible memory. Hence my failure to highlight a very important date a couple of months ago. 21 July was the 30th anniversary of the release of Steel Pulse's seminal debut album
Handsworth Revolution
. It changed my life forever. And I don't say that lightly, it's the truth.
I have an unfinished 30,000 word biography of the band on my pc and here's a section of it that highlights the release and impact of that first album. Island Records had signed the band at the back-end of 1977 and their first single Ku Klux Klan reached the UK Top 50 despite limited airplay due to its controversial subject matter. The band were pleased with the single, so were the record company and work began on their first album. The band's Manager Pete King recalls the unanimous decision over the producer of the album. "Karl Pitterson was who we wanted. The main reason was that the band and I had heard the version (dub) side of a track he produced for Ras Ibuna called Diverse Doctrine.. the atmosphere, the echo, blew everyone away. Karl was already linked to Island...so everyone was happy with the choice." Pitterson was one of Island's heavyweight reggae producers and had previously worked with top Jamaican acts like Bob Marley on the album Exodus, Bunny Wailer and Peter Tosh. It proved a master-stroke. The chemistry between Pitterson and the band was electric, as guitarist Basil Gabbidon enthuses, "He was fantastic. Karl was like another member of the band and just a few years older. He brought clarity, precision, more arrangement, a tighter, professional feel and enhanced our sound by drawing it out of us. He improved the lead and backing vocals in particular." Drummer Grizzly Nisbett was also sincere in his appreciation of the band's early mentor. "Karl Pitterson took what we had, moulded it and made it better. We liked his production before we met him as we'd heard his stuff. He came to Linwood Road, sat on a speaker and listened. He liked what he heard. Karl was a musician, a producer, a writer and an engineer. One of the best. He brought out the musicianship in Steel Pulse. He showed us what we could do and what we were capable of. He pushed us in the right direction, how to do it and when to do it. We learnt a lot from him as far as studio work and techniques were concerned. We basically had no idea. We'd never really been in the studio before. We were fresh, nervous, it wasn't perfect but no other album sounded anything like Handsworth Revolution, thanks to Karl Pitterson." King remembers, "Not a great deal of preparation before recording began. We more or less put the live set on the album. The band would spend ages laying down the tracks, then go back to the hotel to rest. I would then spend hours with Karl mixing the tracks, with Godwin Logie also involved. I had an input though it would be hard to measure. I had a brilliant relationship with Karl, who brought with him a great vibe, good techniques and was one of the guys. Godwin was the tape op and was a lovely guy, an extra ingredient."
The result was their seminal debut album, Handsworth Revolution, released on 21 July 1978 to positive critical acclaim, even though Island supremo Chris Blackwell was allegedly a little uncomfortable with the inflammatory title. The cost of the album, with studio time at a premium, came out at around £40,000. The original illustration and concept for the album cover of a crumbling city with vegetation devouring the ruins was put together by the band's two former art students, David Hinds and Basil, though the final sleeve artwork was completed by graphic design student Andrew Aloof, working for the Bloomfield-Travis agency. I tracked Andrew down and he's now the Director of Art & Design at Hastings College in southern England and runs his own design company. "Bloomfield-Travis were the design company that got me involved. I'd just finished my graphic design degree and was doing well for myself as a freelance illustrator, in fact I'd already had my own exhibition, mostly with portrait and figure work. To be honest, I've done tens of thousands of pieces of artwork ranging from the Sunday Times & Radio Times, to the Royal Ballet to an album sleeve for Status Quo [Whatever You Want, 1979]. I did a few record covers but I'd never heard of Steel Pulse when I was asked to do the artwork. The designers gave me a creative direction and briefing based on something like urban regeneration or suchlike but it was so long ago I can't really remember. I don't even have a copy of the illustration and I certainly didn't realise the band were still going. Strangely, lots of people have commented on that particular cover, moreso than any other album sleeve I've designed. It was the 2nd or 3rd record cover I'd done." He was genuinely pleased to hear that his artwork has sold around the globe and is instantly recognizable and associated with one of the world's greatest and long-lasting reggae groups. Like Martin Fuller, who designed the Steel Pulse logo that has been the band's symbol for the last 25 years, little did they know that so many years later we'd still be admiring their superb handiwork.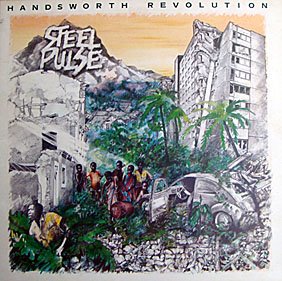 A month earlier on 23 June, their second single from their debut long-player, Prodigal Son, was released and got to number 35 in the UK singles chart, their best-ever commercial chart placing. It also generated the band's only Top of the Pops appearance on 6 July, alongside The Buzzcocks, Justin Hayward and Showaddywaddy. Timing was crucial and this brief but important exposure on prime-time national television on such a popular show, watched by millions every week, was geared to aid the sales of the album, released a few weeks later. However, Pete King believes they missed a trick. "I felt the band took too long to do the album, and Island took too long to physically release it - we could've been a number one album, without a doubt. The album came out when everyone was on holiday. It was a shit time to release it. The press had been building up and building up for a while, but that was our first taste of how to become a victim of a record company's machinations. You shake hands with the devil and hope for the best, whilst trying to exert as much pressure and influence as you can muster. We sold an initial 75,000 copies to get a silver disc from the BPI. I later lost it to the bailiffs when my studio went under but I bought it back at auction for £25!" He also recalls, "They were always going to be an album band on Island Records. The singles they released didn't work. It was all geared around album sales. The big issue for me was that Island wouldn't do anything in America, nor let me do anything either. It was very short-sighted and intransigent of them I thought. They only concentrated on England and Europe."
Incredibly, for a debut album, it reached ninth spot in the British LP charts in just ten days following its release and the band had struck gold, with eventual sales of over a quarter of a million. Its stayed in the Top 50 album chart for three months. "We recorded the album at St Peter's Square, Island's HQ in London," recalls Basil. "If we'd put the album out three weeks earlier, I'm sure we'd have got to number one or at least the top three. People were waiting for it, we were gigging all the time and had a large fanbase." There was another morale boost for Pulse during the recording of the album, as Grizzly explains. "We met Bob Marley at the Island studios for the first time. We'd just come out of the basement, the 'Fall-Out Shelter' we called it. We were relaxing upstairs, playing pool and listening to the tapes we'd just recorded. He walked out of the offices section and came over and said 'hello guys, I like what you're doing'. We just stood there shaking, with our mouths open. Bob had an aura about him, you had to love him, we all did. Toots Hibbert was also in the studios during the recording sessions." On its release, Adrian Thrills for NME regarded the album as, 'a laudable achievement; a fully-realised first album, well worth its wait even though it'll sting your pockets to the tune of four crisp notes. The Pulse have certainly cultivated one of the most distinctive reggae sounds around; the Pulsebeat is given its character by both the brawny organ work of Selwyn Brown and, more than anything else, by the decidely rock-orientated guitar of Basil Gabbidon and lead singer David Hinds. Side one opens with the title track and two more consecutive blinding aces in Bad Man and Soldiers, all in all the three outstanding tracks here. Elsewhere there's the sloppy Sound Check, the frisky Macka Splaff, some neat flamenco guitar on Prediction, Prodigal Son and of course Ku Klux Klan, still sounding like one of this year's most worthwhile singles....Steel Pulse have their finger firmly on the mood of a generation.' The rest is history.

To find out the full story on Steel Pulse, as documented by this author, click
here
.