Chhnang awaits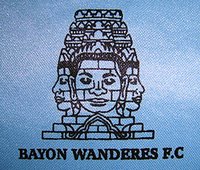 This coming Sunday should be interesting. I'm off to play football in
Kompong Chhnang
with the Bayon Wanderers team and we are scheduled to face one of the province's professional teams, with a big crowd expected. I hope the spectators aren't expecting a red-hot team of expats as they'll be sadly disappointed! More like a team of old crocks, judging my own efforts over the last few weeks. However, it'll be a good experience to play in the provinces, and in front of more than one man and his dog. Kompong Chhnang is 90kms northwest of Phnom Penh and most people simply pass through on their way to Battambang by road, or on the boat up the Tonle Sap on their way to Siem Reap. I'm not convinced the pitch will be as good as the one at the Old Stadium but we shall see. I first went to Kompong Chhnang in 2001 and
here's
my report from back then.
Following hot on the heels of the WASH initiative I mentioned a few days ago, that is educating the need for people to wash their hands to avoid disease, comes news that the perils of
smoking
are to be introduced into the school curriculum here in Cambodia. Bravo. It's one of my pet hates and it's dangerous too. Over half of the population here smoke and as you can imagine, it's filtering down to the teenagers, keen to look cool as they do in the adverts plastered around the place. I'm all for educating children of such perils, as I am for teaching them basic first-aid and how to swim alongwith the other basics we take for granted.