Black Roots In Session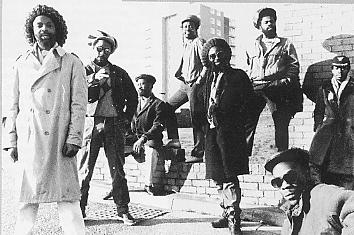 All credit to French re-issue label
Makasound
, who have excelled themselves with their latest offering, a release of
Black Roots'
In Session album alongwith some choice early singles and 12" versions, on CD. This is long overdue and full credit to Makasound who are making great strides in issuing crucial re-releases.
Anyone who has visited my
website
, will know of my love of this group. In my collection, I have everything they ever issued (I think), so this is a 'must have' for me personally, and I think it should be in your roots reggae collection too. Black Roots were more than just a group. They were a company created in Bristol's Jamaican neighbourhood in the late 70s. Although they were all born in Jamaica, its members followed their parents in the many successive immigration waves that emptied the island in the 50s and 60s – and still today -, driving American, Canadian and British wannabes abroad. Growing up in Bristol's Jamaican community, in streets resounding with the rebel songs of Burning Spear, Peter Tosh and Bob Marley, the eight youths decided to found their own group, Black Roots. It all began at a street corner, around a game of dominoes, as Jabulani Ngozi recalls: "Black Roots was formed in 1979. We were already playing in different small groups. But we were all childhood friends and had known each other since the mid-60s. We all went to school in England. With only the dole ahead of us, we decided to create this group while playing dominoes, one day. It came from a blues we wanted to control".
Their first 2 albums (Black Roots & On The Frontline), released in 1983 and 1984, were critically acclaimed by the press, specialised or not. The Guardian wrote: "The best of the new British reggae bands". Black Echoes and other in-depth magazines wrote: "The next great hope for reggae in this country" and "One of the most polished and uplifting reggae albums we had the pleasure to hear". Makasound reissued both in May 2004 on vinyl under the title On the Frontline.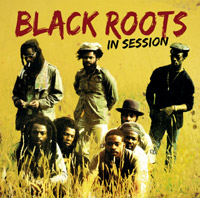 This new In Session release revisits these tracks with two live studio sessions recorded at BBC Radio One by famous broadcaster John Peel and his partners David 'Kid' Jensen and Peter Powell. The first recording dates back to April 1982 and was broadcast on May 27. The other was broadcast on November 14, the same year. Both were put together on the 1986 album In Session, and now reissued for the first time in 2007. Makasound have complemented the 10 original tracks with the band's first singles (Bristol Rock/The System), and some alternative versions of other tracks (Chanting for Freedom/Confusion/The Father/Tribal War). All on CD for the first time. Bravo Makasound!