New Jimi Lundy video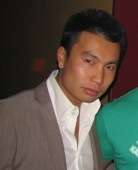 A new video of the song,
Cambodia
by
Jimi Lundy
(pictured), has just been released. The song will be featured in the forthcoming Tim Pek-movie, The Red Sense and the video contains clips from the film. You can watch the video
here
.
Here's
a previous blog posting of mine about Jimi's CD, Steal My Heart, which was released in 2004. The blog post included the lyrics from the Cambodia track, which was included on the CD release. It's also a bonus track on a new single release from Jimi that's coming soon. Stay tuned.