New single from Percydread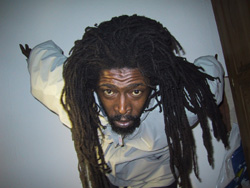 One of my favourite reggae singers,
Percydread
, is just about to release a vinyl double A-sided single of his tracks, Father's Love and Dungeon, on his own Lemonapple record label. It should be out in about a week and Dungeon is pencilled in as one of the cuts on his Upside Downside album that is still in the pipeline. Read about the album
here
. Percydread was formerly the lead singer and songwriter with one of Britain's best-loved reggae combo's, The Natural-Ites, back in the Eighties. Read more
here
.