Museum pieces on the move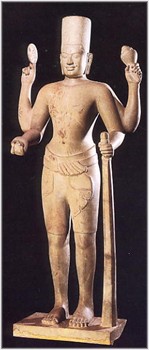 One of my favoured haunts in Phnom Penh is the
National Museum
, often alive to the chatter of school-children visiting its permanent exhibitions containing around 1,500 pieces on display and no less than another 14,000 objects in the museum's basement. A hive of activity is taking place behind the scenes to catalogue and conserve each of these items and from time to time, some of the most precious exhibits are allowed to leave the country. Exhibitions of Khmer art have taken place in America, France and Japan and another tour, this time to Germany, will take place in December. From 15 December through til 9 April 2007, Bonn will host the 'Angkor - Sacred Heritage of Cambodia' exhibition, which will contain 140 Khmer treasures of stone sculptures, bronze figures, silver objects and paintings.
Meanwhile, back in Phnom Penh, air-conditioning is being installed in one room for a forthcoming exhibition of Rodin watercolours from the Rodin Museum in Paris. The works depict classical Khmer dancers, whom the artist painted when the troupe travelled to France in 1906. Elsewhere in Cambodia, work is currently being undertaken at a series of provincial museums that includes restoring buildings, training staff and creating databases of the exhibits in situ. I visited the two museums in Battambang in January and they are well worth the effort to pay a visit if you have the time.
Photo (left): A four-armed Vishnu from the National Museum. The statue is from the 9th century and was found at Prasat Damrei Krap on Phnom Kulen.