Kompong Cham in print...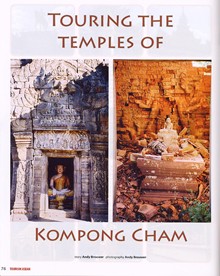 The latest quarterly edition of
Tourism Asean
(Sept-Dec) has just arrived through my letter-box. This is a gorgeously glossy trade magazine published in Singapore and sent to travel agents around the globe, in order to promote the exotic locations of Asia. In the previous edition, my own story on the Tonle Sap Lake was included, this time around, my 'Touring the Temples of Kompong Cham' article and a handful of colour photos took up two pages and sat between articles on Myanmar and Saigon.
* * * * *
Also landing on my doormat was a gift from author Bob Philpotts who has just returned home from a trip to Phnom Penh. He kindly sent me a copy of a book dedicated to the cyclo-drivers of Cambodia's capital city, called
Kings of the Road - The Cyclos of Phnom Penh
. New Zealand photo-journalist and author Robert Joiner published his 100-page glossy coffee-table book in 2005 in order to draw attention to these hard-working men who play an important role in the city's infrastructure. Its full of dazzling colour photos and depicts the life of the cyclo-driver on the streets of Phnom Penh. Last Word Books are the publishers and can be contacted
here
. Buying the book will help the activities of the NGO devoted to supporting cyclo-drivers in the city,
The Cyclo Centre
. Bob Philpotts is also an author, having published The Coast of Cambodia and A Port for Independence - The Origins of Sihanoukville through Blackwater Books.