ANDYBROUWER.CO.UK

STEEL PULSE ON-LINE
---
Steel Pulse released two compilations during 2006, sharing intimate memories and unseen footage in their Introspective DVD and their second compilation on the Wiseman Doctrine label, Rastanthology II: The Sequel. Find out more.
- a detailed biography of the band from their early days in Handsworth
- read bio's of the main characters in the Steel Pulse story
On the road with Steel Pulse, 2
- 'on the road' in detail from 2002 up to the present day
Sundance comes alive - August 2003
- magical moments and photos from the Sundance Festival in Holland
- news, photos & set-lists from their brief UK 2004 tour
- reports, photos & set-lists from a memorable Paris weekend
- Steel Pulse wowed the crowds in Birmingham, Shrewsbury and London in four concert appearances in September and October 2005, kicking off by headlining at the Reggae Rockz festival in Birmingham City Centre. To read my inside story on all four shows, together with a unique series of photos, click on the link above
- the latest Steel Pulse studio album, reviews & interviews
- the Grizzly story, told by the man himself
- the Donna Sterling story, told with a smile
- the inside story from the band's founder member
Basil Gabbidon - the story continues
- Basil is still making music and sharing his talent
- the band's first drummer tells his story
- the band's former manager in his own words
- interviews with former group members
- a webpage on members of the band (with autographs)
- a treasure-trove of archive articles about the band not found anywhere else
- these early photos of the band are priceless
- photos of the band from times gone by
- details of Steel Pulse's albums and singles over the last 30 years
- Steel Pulse 7" picture sleeves through the years
- brimming with Steel Pulse facts
- some items of memorabilia that will be of interest
- an opportunity to discuss Steel Pulse and other British reggae bands
- make sure you pay a visit to the band's official website
---
Speaking to...
Left: Lee Allen. Right: Cecil Morris.
At the end of 2005, I met two men who had a big impact on a fledgling Steel Pulse around the time of their first public appearances in 1975 and 1976. Lee Allen and Cecil Morris recalled their personal associations with an emerging Steel Pulse with great fondness. Lee was the band's first Manager whilst Cecil was the promoter responsible for their talent competition at Santa Rosa success a year later. He also owns video footage of the competition which is most likely the earliest recorded footage of Steel Pulse playing live. Snippets from the two interviews will appear here.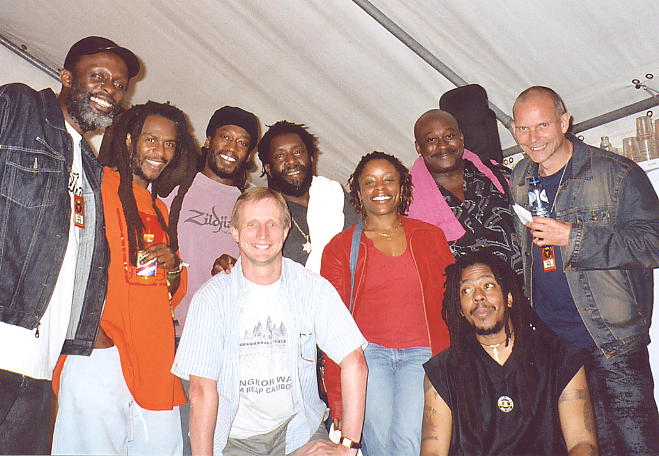 Steel Pulse & the author backstage in Eindhoven, Holland, August 2003. Back Row LtoR: Selwyn Brown, David Hinds, Conrad Kelly, Sidney Mills, Donna Sterling, Alvin Ewen, Richard Hermitage (manager). Front Row: Andy Brouwer, Moonie Pusey. {click to enlarge},
---
Home :: Reggae Legends :: E-mail
The contents of this website cannot be reproduced or copied without permission of the site author. © Andy Brouwer 2008