ANDYBROUWER.CO.UK
---
STEEL PULSE MEMORABILIA
---
Two treasured pieces of memorabilia - the poster and 2 tickets from the first-ever Steel Pulse concert I attended on Friday 2nd June 1978 at Cheltenham Town Hall, some twenty-eight years ago. Like everyone else at the gig, I was awestruck by the powerful performance of this British reggae band that was taking the country by storm that year. I was hooked and have remained so ever since. These artifacts are priceless.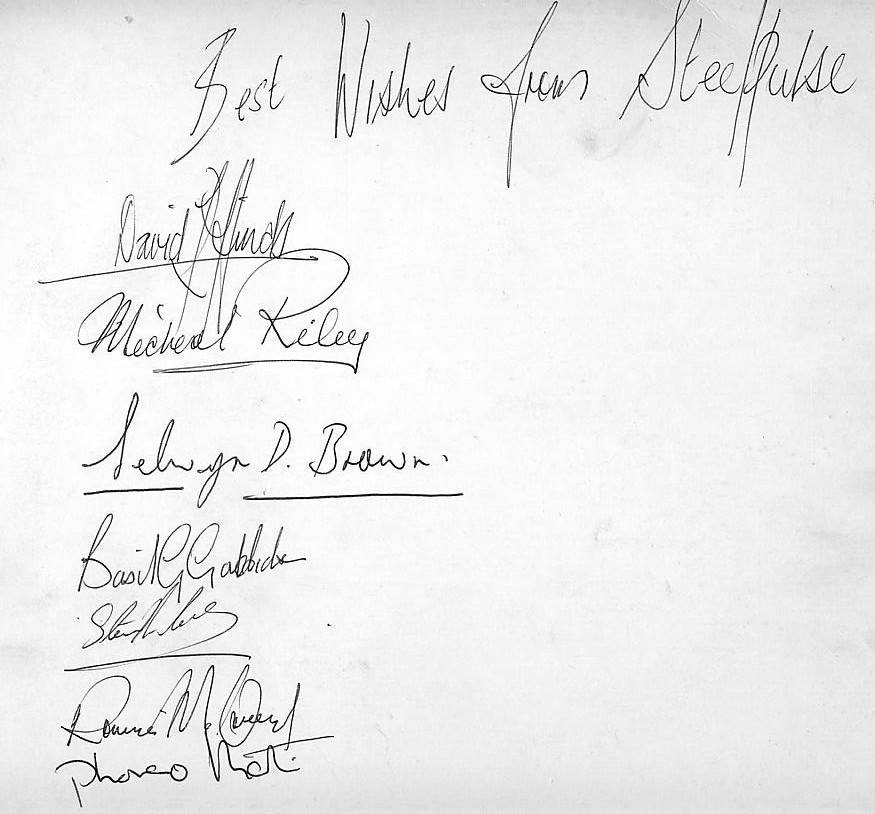 The band members of Steel Pulse signed this record sleeve back-stage at the same Cheltenham Town Hall gig on Friday 2nd June 1978. The autographs were collected by an employee of Island Records at the time. The signatures, from the top, are David Hinds, Michael Riley, Selwyn Brown, Basil Gabbidon, Steve Nisbett, Ronnie McQueen and Phonso Martin.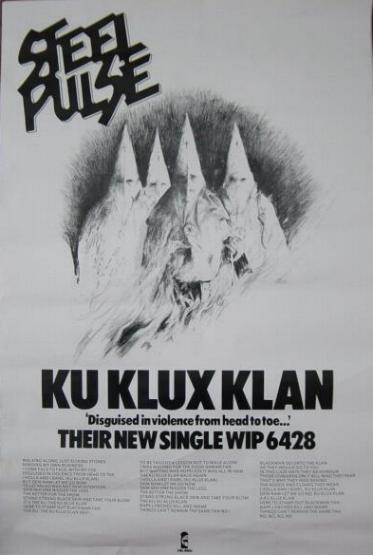 The first Steel Pulse single from their debut album, Handsworth Revolution and their debut release since signing with the Island Records label was Ku Klux Klan. The superb souvenir poster above was produced to advertise the single and contained the lyrics from a song that David Hinds penned at least a year before it was released in March 1978.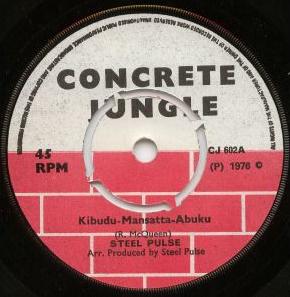 One of the hardest items of Steel Pulse memorabilia to find is the band's first-ever single, Kibudu-Mansatta-Abuku, released in 1976 on the Concrete Jungle label by DIP Records. Just 1,000 copies of the single were pressed and are virtually impossible to track down. If you have a spare copy, please get in touch. Copies have been sold on eBay for £100+. It was written by Ronnie McQueen with Selwyn Brown singing the main vocals. A Mansatta instrumental version appeared on the B-side. It's never appeared on any of the band's albums.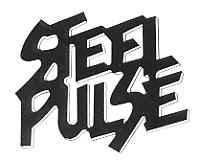 Martin Fuller is the person credited with designing the original Steel Pulse logo that appeared for the first time with the release of the Ku Klux Klan single in early 1978 and can be seen on every album, single, cd and all band merchandise ever since. The distinctive, graffiti-style logo has remained an important symbol of the band for 25 years, establishing a recognizable identity and continuity that few reggae performers can match. Fuller, a graduate of the Birmingham College of Art & Design, got to know the band through his pal Pete King, Pulse's manager in those early years. A graphic designer for a jewellery manufacturer called Cherish, he designed the logo initially for a silver pendant for one of the band members. It was so well received that the design was then used to produce metal badges and adopted by the band for their single, KKK and their first album, Handsworth Revolution. Fuller recalls, "I was very pleased with it at the time, and so were the band. I don't recall any cash changing hands but I did get a credit on the album! I wasn't aware it was still being used today." He still lives in Birmingham and deserves our thanks for designing a timeless logo that still captures the energy and character of the band, 25 years on.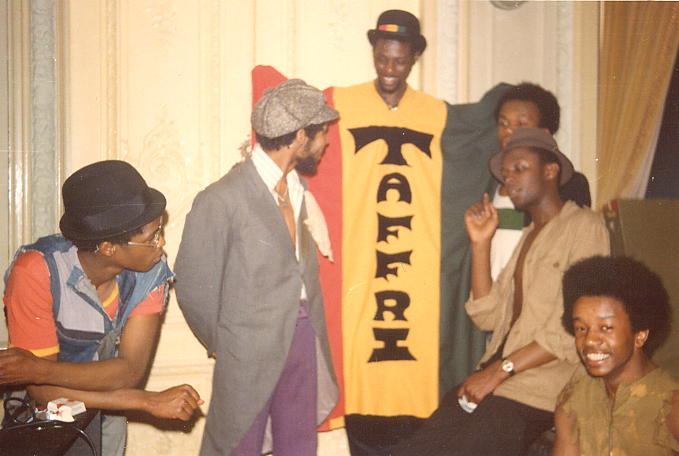 The Steel Pulse sound was fresh and invigorating when it first hit the general public in 1975. The band presented their unique sound as something new and different and called their style Taffri. Michael Riley even went as far as getting a red, gold and green gown sewn together with the word emblazoned in large lettering to wear at some of their stage performances. Michael Riley wears the gown in the photo above. (L to R): David Hinds, Ronnie McQueen, Michael Riley (& Taffri gown), Basil Gabbidon, Selwyn Brown, Colin Gabbidon. Riley was later the architect for their symbolic white Klan hoods for the live performances of Ku Klux Klan.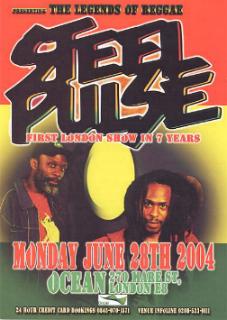 This colourful handbill was available at the June 28th, 2004 Steel Pulse gig at the Ocean, Hackney, London. The rear of the handbill promoted the gig as such - Steel Pulse, the most nominated Grammy winning black British band of all time return to London. Their first London show in 7 years, during their absence Steel Pulse have played hundreds of shows across USA, South America, Europe and Africa. The eight piece band, led by founding member and writer David Hinds along with co-founder Selwyn Brown will play their greatest hits and preview songs from their new album African Holocaust, their most important album to date which exposes the history of the African continent.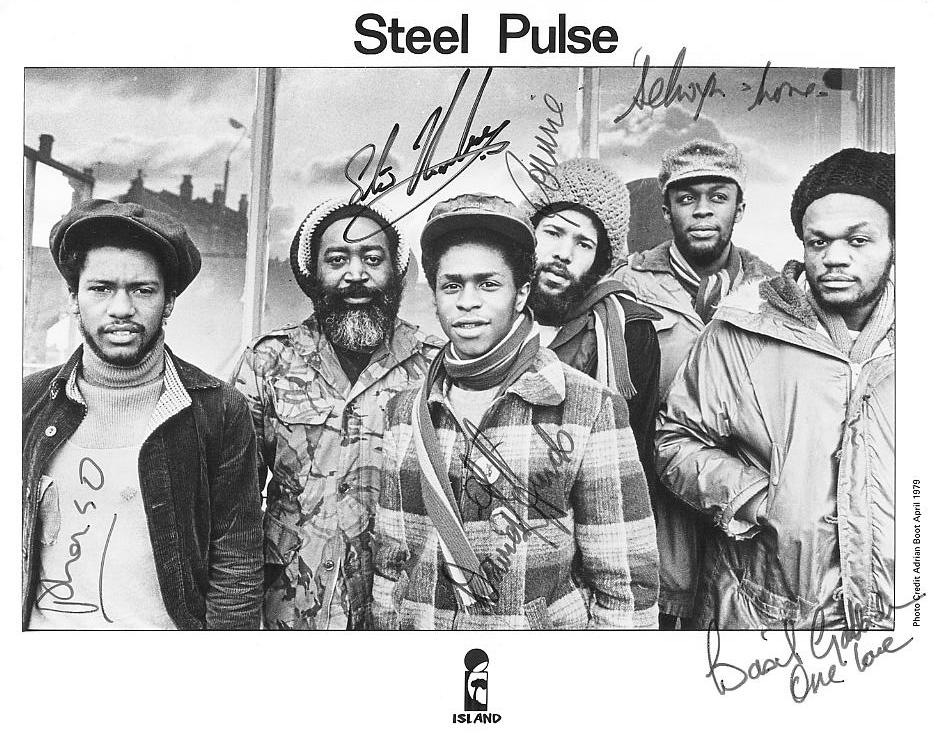 This black and white Island Records publicity photo (taken by Adrian Boot) was published in April 1979 and was signed by each member of the band soon after. They are: (L to R): Phonso Martin, Steve Nisbett, David Hinds, Ronnie McQueen, Selwyn Brown and Basil Gabbidon.
In 1979 I was confirmed as member 169 of the official Steel Pulse fan club and this letter, with pre-printed autographs of the band members, was sent to me alongwith a two-page biography of the band and a metal pin-badge in the shape of the band's logo. The letter has faded over the years but it's still got pride of place in my collection.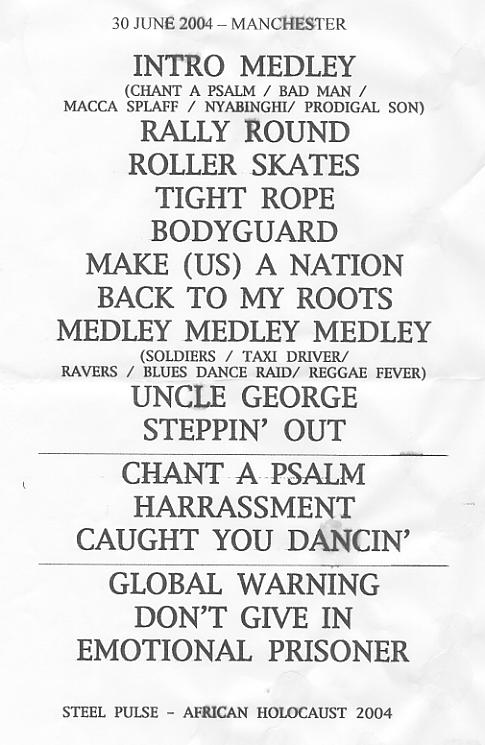 This sweat-stained set-list was a souvenir from the Steel Pulse show in Manchester on 30 June 2004. Due to a technical problem with Alvin Ewen's bass, the set-list was cut short by three songs and we never actually heard Harassment, Caught You Dancin' and Global Warning.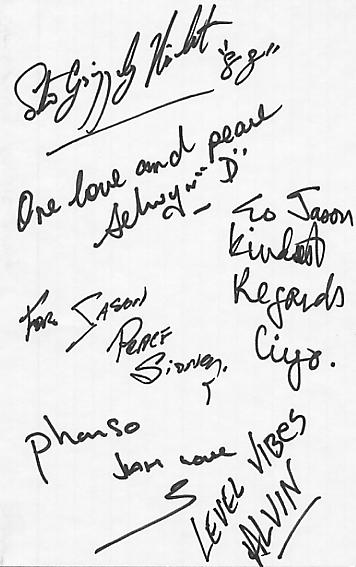 In 1988 Steel Pulse toured the USA and Canada as support to INXS. David Hinds was unavailable for the tour and so makes this collection of band autographs a real rarity. The signatures, from top to bottom are: Steve Nisbett, Selwyn Brown, Melvin 'Ciyo' Brown, Sidney Mills, Phonso Martin and Alvin Ewen.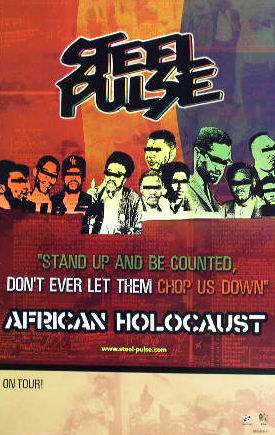 Tour poster advertising the Steel Pulse - African Holocaust tour of the United States in July & August 2004.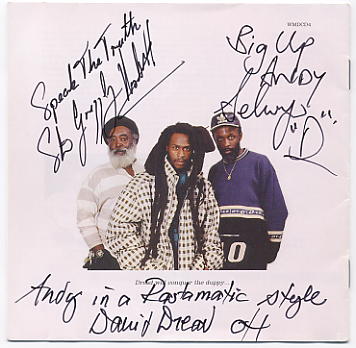 The CD booklet for the Steel Pulse album Rage & Fury, autographed by Grizzly, David and Selwyn.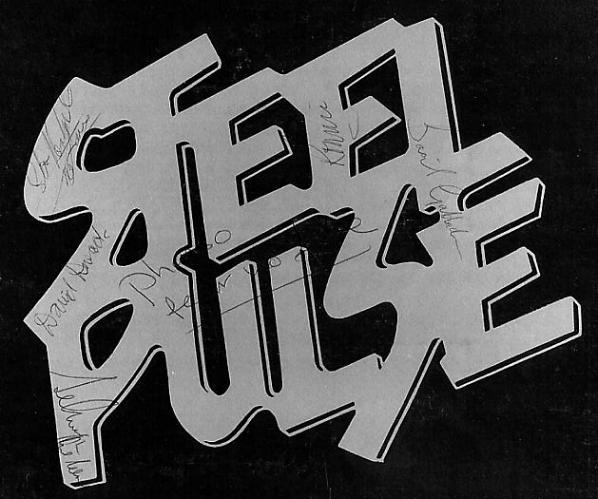 This 1978 limited edition 12" sleeve cover of the single Prediction has been signed by Grizzly, David, Selwyn, Phonso, Ronnie and Basil.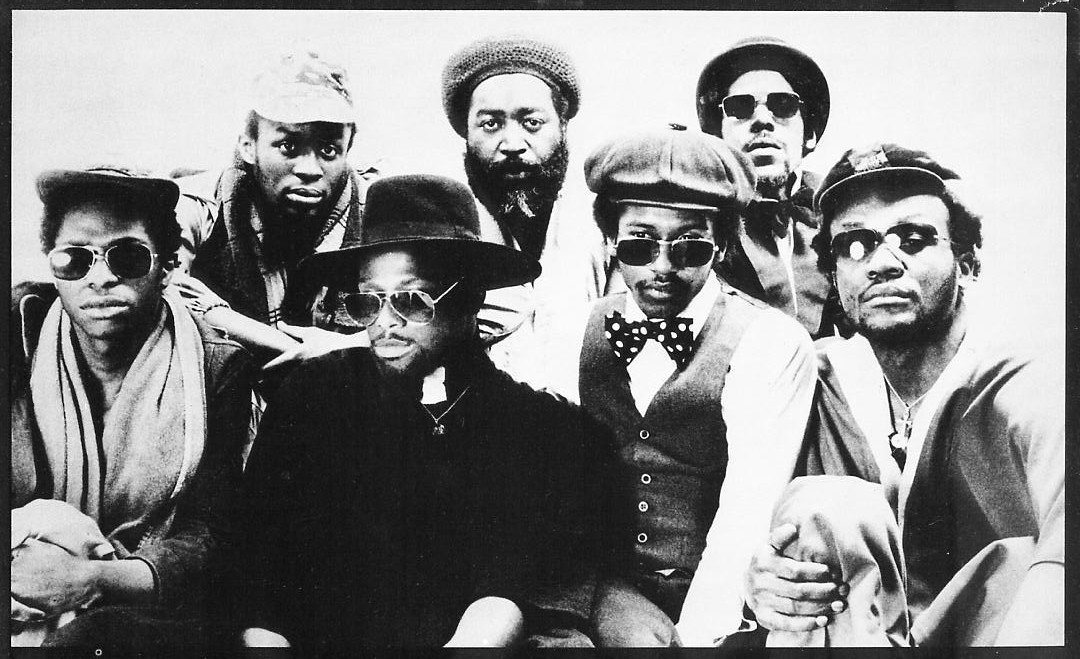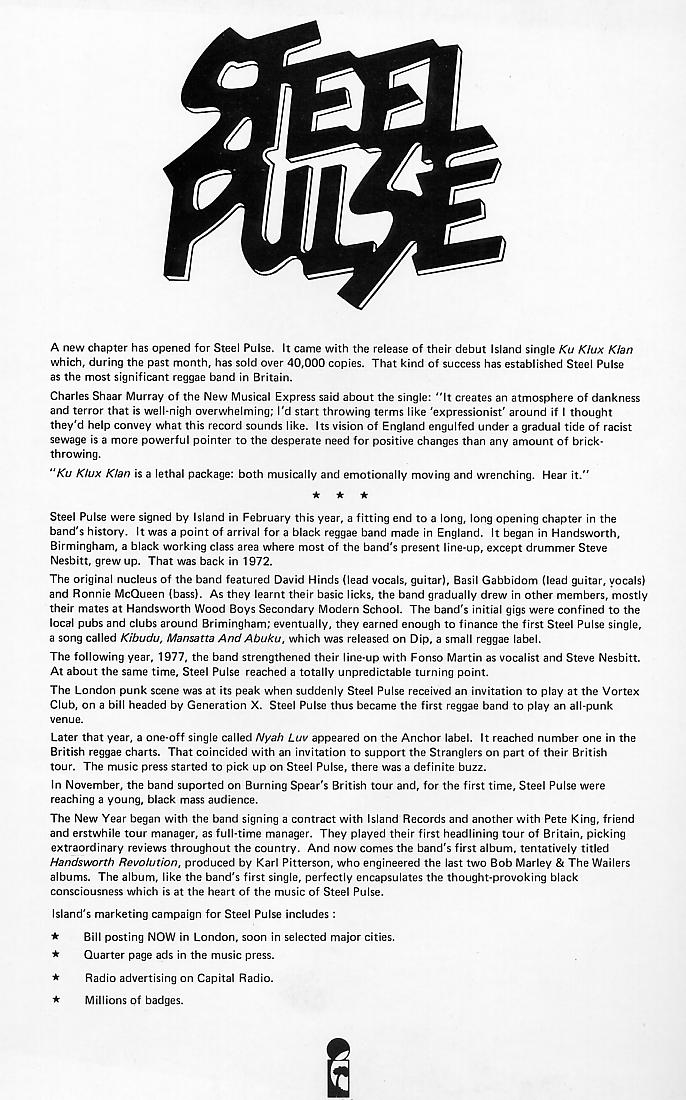 A double-sided press release-cum-poster, obtained by an Island Records employee in June 1978, just prior to the release of their Handsworth Revolution album the following month.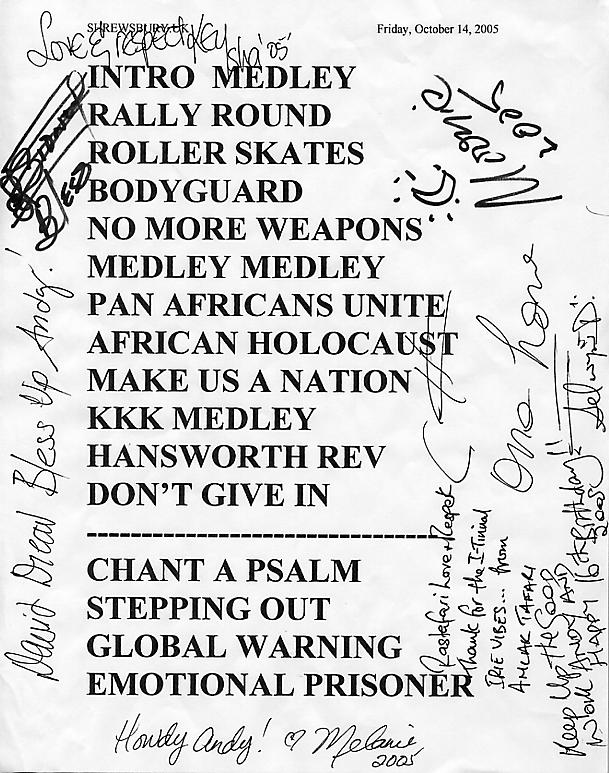 An autographed set-list, signed by each member of the band, from their 14 October 2005 gig at Shrewsbury's Buttermarket. This was the band's first show of a trio of British dates.
Click on each picture to enlarge
If you have any Steel Pulse memorabilia you'd like to share, send me an e-mail with the details.
---
Home : Steel Pulse : E-mail
The contents of this website cannot be reproduced or copied without permission of the site author. (c) Andy Brouwer 2006