ANDYBROUWER.CO.UK
---
STEEL PULSE FACTSHEET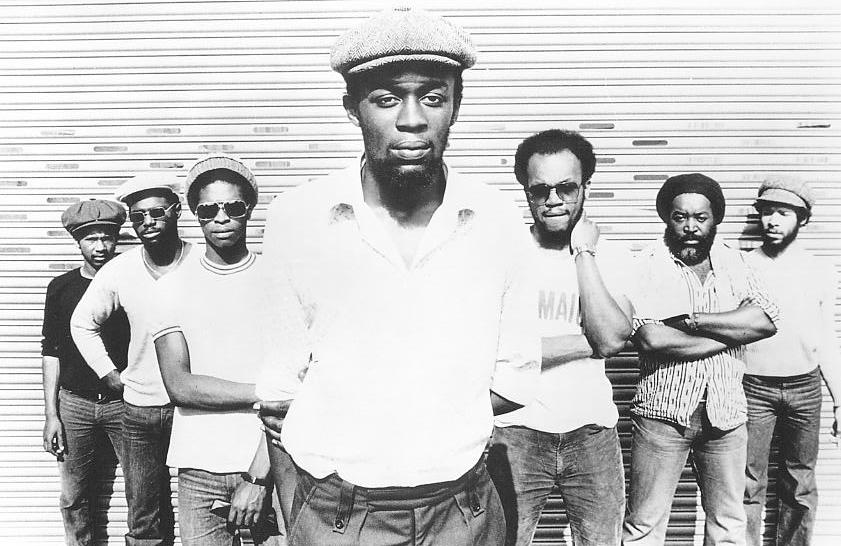 Steel Pulse line up for their Handsworth Revolution album release in 1978 - from an Island Records press photo. LtoR: Phonso Martin, Michael Riley, David Hinds, Selwyn Brown, Basil Gabbidon, Steve Nisbett, Ronnie McQueen.
---
Steel Pulse - fact of the day
1. Steel Pulse's first Grammy nomination was in 1982 for the Reggae Sunsplash '81 live double album recorded at the July 1981 Reggae Sunsplash festival tribute to the late Bob Marley in Montego Bay, Jamaica. The four tracks from Steel Pulse on the album were Sound System, Ku Klux Klan, Handsworth Revolution and Smile Jamaica.
2. 6 July 1978 marked the one and only appearance of Steel Pulse on the popular UK television music show Top of the Pops where they performed their latest single release, Prodigal Son. It reached number 35 in the UK singles chart, their best-ever commercial chart placing and three weeks after their tv appearance, the band released their hugely successful debut album, Handsworth Revolution. The show was presented by Peter Powell and also included Showwaddywaddy (A Little Bit Of Soap), The Buzzcocks (Love You More), Marshall Hain (Dancing In The City), Chic (Boogie, Oogie, Oogie with Legs 'N' Co dancers), ELO (Wild West Hero - video), San Jose (Argentina Melody), Clout (Substitute), Steel Pulse (Prodigal Son), City Boy (5705), Justin Hayward (Forever Autumn), John Travolta & Olivia Newton John (Summer Nights - video).
3. Martin Fuller is the person credited with designing the original Steel Pulse logo that appeared for the first time with the release of the Ku Klux Klan single in early 1978 and can be seen on every album, single,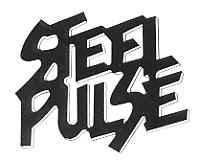 cd and all band merchandise ever since. The distinctive, graffiti-style logo has remained an important symbol of the band for 25 years, establishing a recognizable identity and continuity that few reggae performers can match. Fuller, a graduate of the Birmingham College of Art & Design, got to know the band through his pal Pete King, Pulse's manager in those early years. A graphic designer for a jewellery manufacturer called Cherish, he designed the logo initially for a silver pendant for one of the band members. It was so well received that the design was then used to produce metal badges and adopted by the band for their single, KKK and their first album, Handsworth Revolution. Fuller recalls, "I was very pleased with it at the time, and so were the band. I don't recall any cash changing hands but I did get a credit on the album! I wasn't aware it was still being used today." He still lives in Birmingham and deserves our thanks for designing a timeless logo that still captures the energy and character of the band, 25 years on.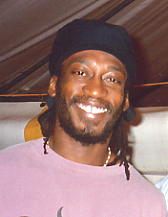 4. Drummer Conrad Kelly joined Steel Pulse in November 1994. He'd grown up in Handsworth and had been close to the band for many years, but found himself left out even before he'd played his first live gig with the group! Conrad (right) explains, "The funniest thing is that on the day of the first show we were all getting on the bus and David was the last man (not an unusual phenomena), so I went down the road to get a paper, and when I got back, the bus had gone.....so I was left standing on the streets of New York, in the middle of November, wearing nothing but a t-shirt, while the band is on the way to Conneticutt. Guess that's the price you pay for being the new guy. I learned how to get around by rail, that same day."
5. Reaching Out was the first single from the album State of Emergency in 1988 and the accompanying video was directed by Spike Lee, the outspoken black movie director, who included the Steel Pulse track, Can't Stand It, in his 1989 film Do The Right Thing. Grizzly Nisbett explains. "Spike Lee movies and Steel Pulse stood for the same thing. He requested one of our tracks for his movie and we said yes. It was a good marriage as far as I'm concerned. He liked us so when we asked him to do our video, he said no problem." A calypso-flavoured tune dedicated to the Caribbean Islands, the song was penned by Phonso Martin. Spike Lee has directed numerous music videos from Prince to Stevie Wonder to Miles Davis. His movies include She's Gotta Have It, Mo' Better Blues, Jungle Fever and Malcolm X.
6. Steel Pulse's first live gig took place in January 1975 at a small working-class pub called the Crompton Arms. A hub for local bands at the time, the pub was located on Crompton Road in Lozells, Birmingham and the six-strong band line-up for that debut gig was David Hinds, Michael Riley, Selwyn Brown, Ronnie McQueen, Basil Gabbidon and Colin Gabbidon.
7. Once the former Handsworth Wood schoolfriends became serious about forming a band in 1974, a suitable name posed the next problem, which was solved by Ronnie McQueen, who had a passion for horse-racing. He liked the name of one horse in particular, the 1972 Irish Derby winner called Steel Pulse and suggested to the rest of the band that they take the name as their own. Everyone agreed.

8. Steel Pulse enjoyed a hugely-successful European tour alongside Bob Marley & The Wailers in mid-1978. Following Marley's death, members of The Wailers linked up with Steel Pulse on stage at various times, notably Tyrone Downie (keyboards, right) who toured with the band in 1985 and also guested on their State of Emergency album release. Also guesting during live performances were lead guitarists Al Anderson in New York in 1989 and Junior Marvin, in Washington in 2000.
9. Whilst on a tour of Africa at the end of 1998, Steel Pulse met film actor and producer Danny Glover, famed for his role in the Lethal Weapon series of films, in Dakar, the capital of Senegal. Glover was also on a tour of African countries as a Goodwill Ambassador for the United Nations Development Programme.
10. The album cover for Steel Pulse's 1978 Handsworth Revolution album was based on an original idea from the band's two former art students David Hinds and Basil Gabbidon. However, the final artwork and illustration on the album, bought and seen by hundreds of thousands of fans over the years, was actually the handiwork of Andrew Aloof, who recalls, "Bloomfield-Travis were the design company that got me involved. I'd just finished my graphic design degree and was doing well for myself as a freelance illustrator, in fact I'd already had my own exhibition, mostly with portrait and figure work. To be honest, I've done tens of thousands of pieces of artwork ranging from the Sunday Times & Radio Times, to the Royal Ballet to an album sleeve for Status Quo [Whatever You Want, 1979]. I did a few record covers but I'd never heard of Steel Pulse when I was asked to do the artwork. The designers gave me a creative direction and briefing based on something like urban regeneration or suchlike but it was so long ago I can't really remember. I don't even have a copy of the illustration and I certainly didn't realise the band were still going. Strangely, lots of people have commented on that particular cover, moreso than any other album sleeve I've designed. It was the 2nd or 3rd record cover I'd done."
11. Not sure how many Steel Pulse fans know the name Horace G Ward. Well you might, as Horace was connnected to the band for a long time, initially as a budding vocalist in the very early days and then as the band's live sound engineer and production manager for the period 1976-1988. Horace hails from Handsworth and went to the same school as the rest of the band but now resides in New York and his star shines brightly in the sound engineering field. Currently he's connected with Destiny's Child and Beyonce, Mary J Blige and Usher but includes top names like Prince, Puff Daddy, Busta Rhymes, Fugees, LL Kool J, David Essex and Iron Maiden amongst his former employers, both live on tour and in the studio.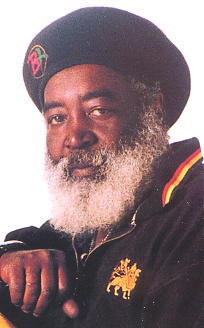 12. Steel Pulse's legendary drummer, Grizzly Nisbett's favoured album was Tribute To The Martyrs, released in 1979. He states, "Martyrs is one of my favourite Steel Pulse albums. I loved the whole execution of Martyrs. I liked everything about it. Yes it was self-indulgent as it was what we wanted to play. I played the drums on Martyrs how I felt it, how I imagined they should be played, the way I felt it should be played with whatever everyone else was playing. Everyone came out and said I love that album, the way the whole thing came together, the way Karl mixed the whole thing - I loved Martyrs. I would play Martyrs more than anything else. I love that record."
13. Since their formation, Steel Pulse have played as support to some of the biggest names in music, not least Bob Marley & The Wailers. Two massively-popular bands also played as the support act to Steel Pulse in their early days, namely Simple Minds and The Police. In January 1978, Simple Minds made their professional debut alongside Pulse at Glasgow's Satellite City. Three months later, Pulse headlined at the Roundhouse in London and also on the bill were an up and coming band called The Police.
14. Just announced... the new Steel Pulse studio album, their first since the 1997 release of Rage & Fury, will be called African Holocaust and will be released in June 2004 just prior to the band undertaking a European and US tour. Their last album release was the live recording, Living Legacy, in 1999.
15. The Steel Pulse sound was fresh and invigorating when it first hit the general public in 1975. The band presented their unique sound as something new and different and called their style 'Taffri'. Michael Riley even went as far as getting a red, gold and green gown sewn together with the word emblazoned in large lettering to wear at some of their stage performances. Riley was later the architect for their symbolic white Klan hoods for the live performances of Ku Klux Klan.

16. A link between celebrated British documentary film-maker Molly Dineen and Steel Pulse...in her youth, Molly was an art student and close companion of Pete King (Pulse's manager) around the period that Steel Pulse were really making a big impression on the British music scene for the first time, in 1977 and 1978. Around that time she was the band's unofficial photographer and gets a credit on their Handsworth Revolution album. Canadian-born, she was living in Birmingham, and her graduation film from her college was all about Jamaican sound systems. She's now regarded amongst the very best of Britain's documentary makers & directors.
17. Steel Pulse's first-ever gig in the United States took place in October 1980 at the Mud Club in New York. The positive reception they received came as a surprise boost to the band and they've never looked back since.
18. Kibudu- Mansatta- Abuku was released in 1976 by DIP Records on the Concrete Jungle label. This was Steel Pulse's first single. It was written by Ronnie McQueen with Selwyn Brown singing the main vocals. A Mansatta instrumental version appeared on the B-side. It's never appeared on any of the band's albums.
19. The name of Neville Garrick is synonymous with Bob Marley, having worked as Marley's art director and produced most of his album covers in the 70s as well as sleeve designs for Peter Tosh, Bunny Wailer and many others. He was also responsible for two Steel Pulse covers, namely Earth Crisis and Babylon The Bandit. Garrick recalls, "Designing record covers during the protest era of reggae music was a perfect vehicle for my militant expressions. The album cover Earth Crisis that I designed for the English reggae group Steel Pulse typifies what I called social-commentary art."
20. In an interview with Guitar.com in 2000, David Hinds said, "The Parker Fly is my main guitar right now, for one of many reasons. I sort of had a shoulder thing happen to me a few years ago and, as a result now, I've picked something that is extremely light. ...when I'm in the studio, I tend to use a different type of guitar than the one I use on stage."
21. Basil Gabbidon, an original member of Steel Pulse, was an English Schools Athletics Champion. He ran for his school, then Aston District, he represented Birmingham and then Warwickshire in the English Schools Championships. He was on a roll and he didn't stop until he reached the 1973 Championship finals held at Bebington, where Basil ran the 110 metres high hurdles in 15.2 seconds to win the title of Schools Champion of England. He was 17 years old at the time and a member of his local athletics club Birchfield Harriers.
22. Steel Pulse were the first British reggae band to play at a white punk club when they appeared on the same bill as Generation X at the newly-opened Vortex Club in London on 1 August 1977.
23. Steel Pulse appeared in the documentary film, Reggae In Babylon in 1978 documenting the reggae movement in the Britain at that time. They performed two songs, Ku Klux Klan and Prodigal Son and were interviewed by director Wolfgang Buld. Also featured in the documentary were Aswad, Matumbi, Jimmy Lindsay and Alton Ellis.
24. Steel Pulse released their first live album, Rastafari Centennial, in September 1992 and received yet another Grammy nomination for their work. The album was recorded over three nights in Paris in January 1992.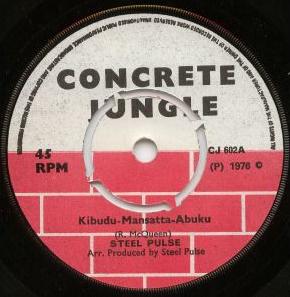 25. In an auction on eBay.com (July 2004), a copy of Steel Pulse's first-ever single, Kibudu-Mansatta-Abuku, released in 1976 on the Concrete Jungle label by DIP Records, was sold for £118. Only 1,000 copies of the single were pressed. My eternal thanks to the Italian buyer of the single, who subsequently supplied me wth a copy of it on CD.
26. 26 October 1977 and Steel Pulse supported the legendary Burning Spear at The Rainbow Theatre in London. This gig finally clinched the band's signature on the Island Records roster that already included Bob Marley & The Wailers, Third World and Black Uhuru.
27. Island Records didn't like the harsh-sounding names of Harassment or Nyahbinghi Voyage for the title of the third Steel Pulse album, released in 1980. Instead, they preferred the less controversial Caught You whilst in the United States, the album was released under the title Reggae Fever.

28. Have you spotted the word JONZ etched into the run-out groove of early Steel Pulse vinyl releases and wondered what it meant? The tag JONZ and SOUND CLINIC first became associated with Steel Pulse for their Nyah Luv single in 1977 and remained ever-present throughout their Island Records and Wise Man Doctrine periods. Check out the band's early vinyl for yourself. So what does it means? Well, its the 'fingerprint' of John 'The Don' Dent, who has been responsible for mastering records for a who's who of the music industry's greatest artists ranging from Bob Marley, U2 and the Police through to Kylie. John now runs Loud Mastering in Taunton and has mastered the last two Steel Pulse studio albums, Rage & Fury and African Holocaust. So what is mastering? I'm no expert but its the creative stage between the mixing and the manufacturing of the final product (vinyl or CD). Its about making decisions on how the music is presented to the listener and done well, it will greatly enhance what we hear...for example, basic things like cd volume, relative levels between tracks, the tone of the sound (termed the Eq), whether to compress or limit the peakier sounds, the fades & the gaps. Its very much a 'taken for granted' part of the process by most of the cd-buying public, but without David Hinds and John spending about ten hours to come up with the final master for African Holocaust, we wouldn't have the fantastic CD we all have in our collection today. An important piece of the jigsaw and one which shouldn't be forgotten or underestimated.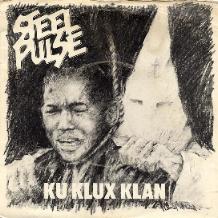 29. A limited edition of 5,000 12" copies of the first Steel Pulse single for Island Records, Ku Klux Klan, were produced in March 1978. The A-side track was 6.45 minutes long and produced by Steve Lillywhite and Godwin Logie, whilst Bun Dem (6.00 minutes) was on the B-side. For the 7" single, the title track was 3.30 minutes in length with a dub version occupying the B-side. David Hinds said of the single; "... that particular subject was in the papers at the time, as there was talk about the Grand Wizard coming over here to influence the head of the National Front. My imagination just got the better of me and I started imagining white extremists on the streets of Handsworth."
30. Steel Pulse have contributed one-off tracks to various compilation albums throughout their career and these include three cover songs from bands not usually associated with reggae music. In 1996 they covered Franklin's Tower for the Fire On The Mountain: Reggae Celebrates The Grateful Dead album and two further releases in 2002 for tribute albums for the Beatles and the Rolling Stones. Their We Can Work It Out version, with Jukie Ranks guesting, made the Here Comes The Sun: A Reggae Tribute To The Beatles album, whilst You Can't Always Get What You Want was part of the Paint It Black: A Reggae Tribute To The Rolling Stones release. In addition, they contributed Can't Stand Losing You for the 1997 release of Reggatta Mondatta: A Reggae Tribute To The Police.
31. Steel Pulse's lead guitarist, 'Moonie' Pusey, has been with the band since 1989, but how and where did he pick up the nickname of 'Moonie'? He explains. "The name Moonie was shortened from Moondoggy. I was playing some gigs with the famous Jamaican singing duo call the 'Blues Busters.' They had a Sam and Dave kind of sound. Well, Bossy (Philip James) decided that Moondoggy was too long a nickname, so he started to call me Moonie which I kept from the late seventies till now. [Originally] Moondoggy happened in the mid-sixties in my teens. I lived in Brownsville, Brooklyn, New York at the time and in my area there were mostly Black and Latino people there. Well, some of the Latino girls my age started to call me Moondoggy as they said I reminded them of a movie character named Moondoggie who was this cool guy (James Darren) in the old 50's Gidget movies. Well, the rest is history."
32. David 'Dread' Hinds, lead singer/songwriter/rhythm guitarist with Steel Pulse, has had several nicknames throughout his illustrious career. Many of them refer to his one massive dreadlock, which once shot straight from his head like a mighty tree. "Well, over the years I've been called several names," said Hinds. "Names like 'King,' 'Congo,' 'Knots' and 'the Dread.' I've also been called 'Lionheart,' or simply, 'D.' I decided to adapt the name 'David Dread,' because it works well with my autograph."
33. Steel Pulse and Karl Pitterson, their producer for three of their first four albums, will be forever linked. The story goes that the band knew of Pitterson from his work for top Jamaican acts like Bob Marley & The Wailers, Bunny Wailer and Peter Tosh, but it was a dub version he'd produced for an artist called Ras Ibuna, titled Diverse Doctrine, that clinched it. Fortunately Pitterson was one of Island Records house engineers, so everything fell neatly into place for the band's first album with Island, Handsworth Revolution in 1978. It proved to be a masterstroke. Pitterson went onto produce another two Steel Pulse albums, Tribute To The Martyrs and True Democracy.
34. Have you noticed Steel Pulse's lead guitarist, 'Moonie' Pusey during the band's live show and in particular the rendition of the song, Emotional Prisoner? One line from the song has a special meaning for Moonie and he demonstrates this by displaying to the audience a tattoo on his forearm that reads 'Jah Is My Listener'. Watch out for it at the next live Steel Pulse concert.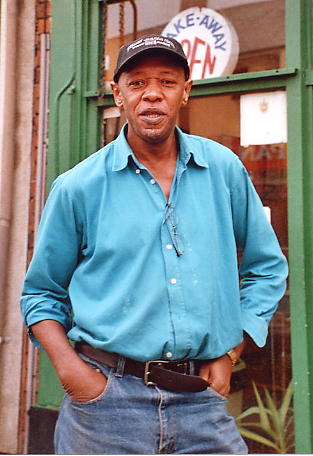 35. An important stepping stone in the early days of Steel Pulse was their success in winning a local Handsworth talent competition, which not only earned them prize money and recording time in the studio but also introduced them to Dennis Bovell, a leading light in reggae circles at that time. However, it was Jamaican-born entrepreneur Cecil 'Music Maker' Morris who was the promoter responsible for hosting the talent contest, held at the Santa Rosa club in Handsworth. Morris ran a record shop and label by the name of Rising Star Records and had a penchant for discovering local talent, later turning his hand to the Birmingham pirate radio scene, running two stations, Radio Star and PCRL, with considerable success, not to mention regular run-ins with the authorities.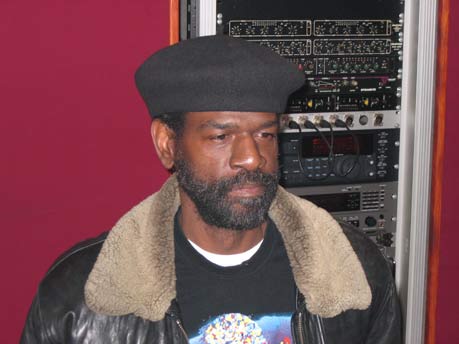 36. Godwin Logie's involvement with Steel Pulse in the recording studio cannot be under-estimated in the band's story. He was the assistant engineer to Karl Pitterson on the Handsworth Revolution and Tribute To The Martyrs albums and again for the Caught You release. He returned to mix and assist Jimmy Haynes for the Babylon The Bandit album in 1985 before co-producing (with the band) and mixing the State of Emergency album three years later. The highly-respected Logie has engineered for and produced a host of other bands and individuals, including Bob Marley & The Wailers (assisting Karl Pitterson on Exodus), Gregory Isaacs, Omar, Brand New Heavies, Aswad, Black Uhuru, Burning Spear, King Sunny Ade, Linton Kwesi Johnson, Maxi Priest, Toots & The Maytals, Horace Andy and co-produced the soundtrack for the film Countryman. His track record speaks for itself.
37. Radio One dj John Peel played a large part in getting the music of Steel Pulse out to the masses when he played a tape of the band's music on his radio show. This quickly led to one of his famous live sessions, recorded at the BBC's Maida Vale studios on 31 August 1977 and played on 29 September 1977. The live tracks were Prodigal Son, Ku Klux Klan, Prediction and Bad Man. Pulse became the first reggae band to perform a second live session for Peel when they recorded a set containing Handsworth Revolution, Macka Splaff and Jah Pickney on 4 April 1978. They went onto record three more live sesssions for the John Peel show beginning on 16 July 1979 with Unseen Guest, Uncle George and Reggae Fever; on 9 April 1980 they played Drug Squad, Shining and Nyahbinghi Voyage; on 5 December 1981 they performed Ravers, Man No Sober and Blues Dance Raid.
1st factfile 27 April 2004
---
Home : Steel Pulse : E-mail
The contents of this website cannot be reproduced or copied without permission of the site author. ©Andy Brouwer 2005