Hevajra on display
Hevajra
, a warlike tantric deity, prompted him to go looking for the missing parts of the 3-metre high sandstone statue that he'd seen in yellowing photographs from EFEO. The bust is now with the Metropolitan Museum of Art in New York but the rest of the body - all 16 arms, one of its heads and its legs - lie elsewhere. The discovery of the legs of Hevajra, hidden in the forest surrounding Angkor Thom, has re-opened the mystery and a new chapter in understanding more about the reign of the great Khmer king, Jayavarman 7th.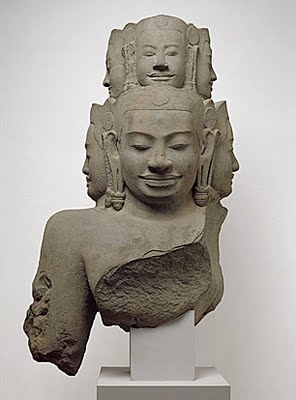 The 7-headed bust of Hevajra at the Metropolitan Museum in New York. It was sold to the museum by EFEO.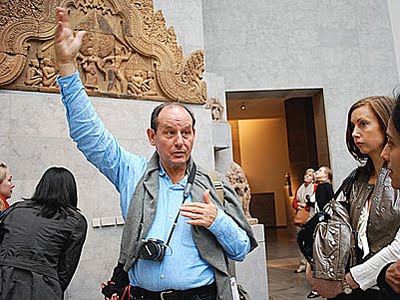 Peter Sharrock shares his knowledge of Southeast Asian art at the Guimet Museum in Paris.

Photo courtesy of Radhika Dwivedi.
Labels: Hevajra, Peter Sharrock