Pen comes home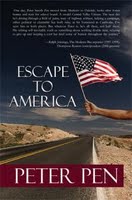 Peter Sareth Pen has spent the last thirty years in America after escaping the Khmer Rouge regime in Cambodia. Now he's coming home. He's also self-published a book about his life,
Escape to America
, which has just become available. Pen made it to a Thai refugee camp in 1978 where he joined his wife and members of his family before finding his way to the United States a couple of years later. He recently ended his job as a social worker in Modesto and will return to Cambodia with his wife and eldest son in search of work. He'd like to work at the American Embassy but if not, a teaching job sounds possible.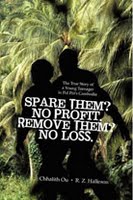 Another memoir to hit the bookshelves in the last month is the story of Chhalith Ou and his flight to safety out of Cambodia as a twelve year old, before getting passage to the USA in 1979. Now living in Chicago, he tells his story to R Z Halleson in
Spare Them? No Profit. Remove Them? No Loss
- the true story of a young teenager in Pol Pot's Cambodia
, and published by iUniverse. This is a harrowing tale of a child's life under the brutal Khmer Rouge regime, joining others in the genre.
Helen Ibbitson Jessup has her name in the frame for a coffee-table sized book,
Temples of Cambodia: The Heart of Angkor
, to be published by Vendome Press sometime this year, or maybe next. No-one is sure. Fine art photographer Barry Brukoff is signed up to do the photographs. With 240 pages with 225 colour illustrations, the book will be organized chronologically and the combination of Jessup and Brukoff is what some would call a dream-ticket. River Books are also set to publish a book on Cambodian temples with Jessup and Ang Choulean sharing the text duties, called
Beyond Angkor
and photos by John Gollings, concentrating on temples outside the Angkor complex. It's bated breath time again.
Labels: Chhalith Ou, Peter Sareth Pen