The Traveler makes it, just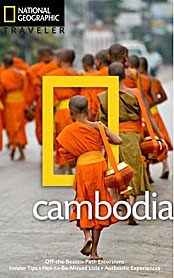 I received a package from the post office today, in a box from UPS, with a book inside. Actually the book was inside another two plastic envelopes, both of which had their seals broken, as did the box, so I was lucky to find anything inside it at all. The good folks at National Geographic have sent me their brand new
Cambodia
book from their Traveler series, fresh off the press, smells wonderful, and very glossy. I'll sit down and have a good look through it tonight. 320 pages, lots of maps, insider tips from principal author Trevor Ranges and others, as well as colour pics by Kris LeBoutillier. I did see that my website gets top billing in the Web section, though it's done alphabetically rather than on merit.
Andy Brouwer's Cambodia Tales,

www.andybrouwer.co.uk

. Brouwer's passion for Cambodian culture and history shine through insightful essays on his travels throughout the country and photographs of temples he has explored.
Labels: National Geographic Traveler