Book review - Match Fixer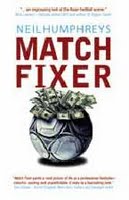 Yes I know its a football-related post but it's also a book-related post, so I've posted it here too. If you have any interest in Asian football at all, you must get a copy of
Neil Humphreys'
debut novel,
Match Fixer
. Even if you can't stand football - yes there are some people like that out there - but fancy a really good read immersed in the exotic Far East then Match Fixer will provide that too. Just treat the football as incidental. Humphreys has lived in Singapore, has worked in sports journalism and has put the two together to produce a riveting read, which will be on sale at Monument Books on Norodom Boulevard next week.
I thought that the best person to review Match Fixer would be someone who has played football in Australia and Singapore (as the lead character in the book did), who's worked in the media and who knows Asian football inside out. Step forward
Scott O'Donell
, the national football team coach of Cambodia, who kindly penned the following review after reading through Humphreys' new novel:
Match Fixer by Neil Humphreys

Neil Humphreys has taken me back in time with his latest offering, Match Fixer.
Having played and coached in Singapore, Match Fixer was something that I could obviously relate to. Humphreys' intimate knowledge of Singapore and in particular the S-League, is an entertaining and somewhat disconcerting view of life as a professional footballer through the eyes of failed West Ham Reserve team player Chris Osborne.
Having failed to make the grade at West Ham, Osborne ended up in Singapore via Australia to ply his trade in one of South East Asia's newest football leagues. While enjoying success and being the new superstar of the S-League, Osborne gets entwined in a complex web of drugs, karaoke lounges and bookies.
It was his presence at a party of a well known foreign publisher that he found himself caught in a situation that proved very difficult to get out of. As you will discover, his honesty and unwillingness to co-operate with the bookies very nearly cost him his career.
The characters in Match Fixer are people all of us who have been involved in football anywhere in the world can relate to: Danny Spearman, the failed ex-pro from UK, Billy Addis, the expat journalist and Yati, the beautiful Sarong Party Girl. All of whom contribute to this fascinating tale of football and Singapore's underworld.
While this piece of fiction is a must read for anyone looking for an entertaining and fascinating novel, anyone who has been involved in football in South East Asia whether as a spectator, a player or a coach will be able to relate to it.
Scott O'Donell
Labels: Match Fixer, Neil Humphreys, Scott O'Donell