A view from my taste buds
I've just read that eating a curry once or twice a week can stave off Alzheimer's disease, which is good news for the owners of my favourite Indian & Nepalese curry-house,
Mount Everest
on Sihanouk Boulevard. I already go there twice a week, either for a sit-in or takeaway, so I must be well on course for avoiding Alzheimer's (memory loss, mood swings, confusion, stress). The gen is that curcumin, an ingredient in turmeric, which is used widely in Indian cuisine, is believed to prevent changes in the brain by blocking the spread of amyloid plaques - toxic protein deposits thought to play a key role in Alzheimer's. I nearly forgot to post this important information and got irritable and confused before I finally remembered it again, so maybe my curry intake needs to be increased! Just for the uninitiated, Mount Everest provide good quality and inexpensive meals, and I would recommend them to all.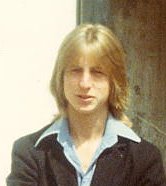 Whilst scanning the newswires this morning, I see the
Lloyds Banking Group
in the UK is slashing more jobs, which will take them up to 7,000 job cuts since they acquired HBOS (Halifax and Bank of Scotland) and were bailed out by the British government in January. Before coming to live in Cambodia, I worked for LloydsTSB after they took over my long-time employer Cheltenham & Gloucester Building Society. To say things were never the same again after the merger, is an understatement. Working for Lloyds was a nightmare and to be frank, they treated me with utter contempt after 31 years as an employee of C&G and then Lloyds. At the beginning of June, Lloyds announced they will close all 164 C&G branch offices in the UK by November, axing 1,600 jobs as a result. Lloyds, who control 30% of the mortgage market, acquired C&G as their flagship mortgage name in 1995. 19 years before that, in 1976, I joined C&G as a post-room assistant (see my photo from that era) and working at C&G, as we made a name for ourselves locally and then nationally, was rewarding and fun. Merging with Lloyds changed all that. And it continues today for the C&G staff that are left, including my step-daughter. I'm glad I got out when I did but the attitude of Lloyds then and now, continues to leave a very bitter taste in my mouth.
Labels: CandG, Lloyds Bank, Mount Everest