At the very top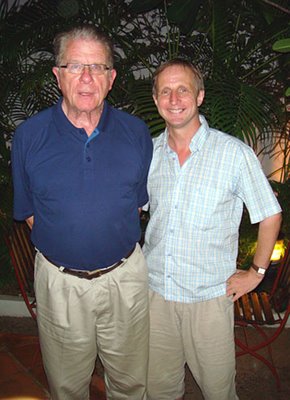 David Chandler and the author finally meet after 13 years of correspondence
Some days everything seems to go awry from the moment you open your eyes and then hey presto it all falls back into place with a whammy by the end of the day. Friday was one such day. The electricity and the back-up generator were off more than they were on at the office, making most of the working day pretty redundant. Eric de Vries had called to meet him at the Asia Motion photo exhibition taking place at Java Arts Cafe, as he was one of the exhibitors, and that's when things took a turn for the better. It was a veritable who's who of Phnom Penh but there were two people present who are at the very pinnacle of their respective professions. The foremost historian on Cambodian history, none other than
David P Chandler
, was in the house. As was the most talked about contemporary dancer that Cambodia has ever offered up, the adorable Belle, or Chumvan Sodhachivy as she's known to her mum, who accompanied her. First I must mention Dr Chandler. I have a book that he sent me in September 1996 - the Land & People of Cambodia - in response to a letter I sent him. We sporadically kept in contact via letter and email since that time, thirteen years ago, but tonight was the first occasion that we've actually met face to face. It was an honour, and he's as nice a guy as people have told me. Alongwith John Weeks, we went for a fine Italian meal at Luna d'autunno and it was just great fun and a real pleasure. I'm quite gobsmacked that I've finally met one of my personal 'heroes' and he lived up to expectations - often in the past that hasn't been the case. If you don't know who David P Chandler is, in connection with Cambodia, then shame on you. Look him up or view the comments section of this post to find out more.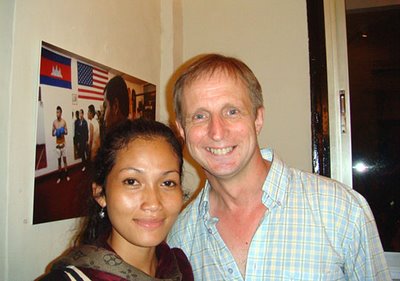 Belle, Cambodia's No 1 dancer, with yours truly at the Java Cafe exhibition
The other star name at the photo exhibition was Cambodia's number one homegrown contemporary dancer,
Belle
, who was there with her mother, Nou Sondab, herself a star of stage and screen during the 1960s and 1970s. Belle has just completed her six month residency with the French Cultural Center and is now off to Taiwan to gain more experience, before a brief return and then a two month immersion into contemporary dance choreography in France and Belgium. She literally never stops to take a breath. To appreciate how good she is, you must see her perform. She has the classical background training of the top traditional dancers in Cambodia but she combines her exceptional talent with a fluidity of movement, interpretation and freedom that has not been seen in her country before. She is simply Cambodia's brightest hope in dance. And not only is she a beautiful young woman but also down to earth, her feet are firmly grounded and she knows what she wants to achieve, notwithstanding the recent furore about her performances and the celebrity status she has quickly acquired. David Chandler and Belle, both at the very top of their respective fields.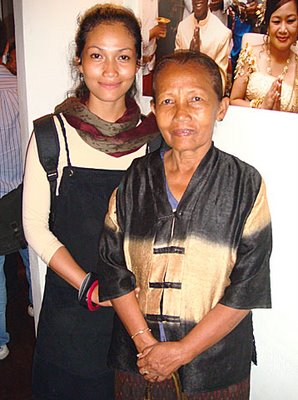 Belle and her mother Nou Sondab grace the Java Cafe exhibition
Labels: Belle, David P Chandler