4Faces opening soon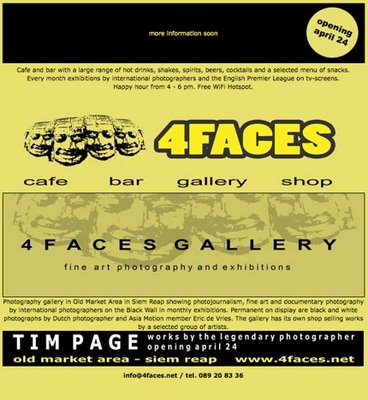 A pal of mine, Eric de Vries will open his new gallery-cafe in Siem Reap very soon - 24 April to be precise - and the following story appeared in the Phnom Penh Post during my absence last week. In addition, Eric has launched the 4Faces website at www.4faces.net.

New Cafe Gallery
Siem Reap photographer Eric De Vries spent most of the weekend in Phnom Penh hunkered down with award-winning war snapper Tim Page to select a range of photographs to display at the opening of De Vries' new cafe gallery. Page has an ongoing exhibition of his iconic Vietnam War photos at Phnom Penh's Meta House and will now launch "almost the same" exhibition in Siem Reap. The Tim Page exhibition will debut in Siem Reap at the launch of De Vries's new cafe gallery, 4Faces, scheduled to open at the end of April in the street running parallel to Pub Street, near the Maharajah Indian restaurant.
De Vries, a member of the Asia Motion Photo Agency, said 4Faces will schedule new exhibitions every month on a specially-created 13-metre "black wall". Hopefully Dutch-born De Vries will not succumb to modesty by refraining from exhibiting his own works, as his arty black-and-white pieces have gained an international reputation, and an exhibition of his photos from his recent book, This Must Be the Place: Images of Cambodia, toured throughout the Netherlands. In June 2006, FCC Angkor exhibited his funky "Blues for Buddha" series, which documented the varied Buddha sculptures found in Cambodia and Thailand, including unusual Buddhas sporting Fu Manchu goatees and what looked like a Jimi Hendrix-style afro haircut.
Labels: 4Faces, Eric de Vries