Silent no more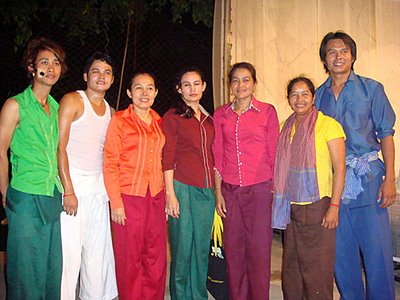 The on-stage cast of Breaking the Silence; LtoR: Sakona, Tonh, Sovanna, Sotheary, Sokly, Sina, Vutha
Yesterday was a busy day, the type I enjoy the most. I was at the office in the morning then after watching some football on the tv, I went to see
Chhim Sothy's
exhibition of paintings at the Culture office on Street 63. Sothy was there to say hello, bubbling with enthusiasm and eager to show off his excellent artwork. I love his traditional style and will visit his studio soon to see more of his art, and maybe get a bargain or two. I then walked to the Bophana Center on St 200 for the 4pm first showing of the documentary
Bitter Khmer Rouge
by Bruno Carette and Siem Meta. The place was packed to the rafters with francophones as the film, which included interviews with Khieu Samphan and Nuon Chea, was only in French and Khmer. My schoolboy French - actually I only studied it for a year and then got bored - didn't help, so I didn't really understand a word and instead, look forward to seeing the English language version someday soon. However, the footage was interesting and primarily what I came to see anyway, as the filmmakers gave rank and file ex-Khmer Rouge, and their leaders, an opportunity to give their version of events.
Breaking the Silence
, staged at the exhibition hall opposite the National Assembly. This is a theatre piece with word, song, music and dance and is intended to get Cambodians talking about their Khmer Rouge experiences, which is why after two performances in Phnom Penh, the plan is to take it out to the provinces, which is a fantastic idea. Cambodians love live performance though they will see a new style, created by Dutch director Annemarie Prins, which they may find both disturbing and thought-provoking. In seven short scenes the four actresses, a dancer, a singer and a musician bring alive stories and situations from the Khmer Rouge period as a way of opening up a platform for discussion. I hope this will be encouraged when they take the play to the provinces, as this will be an opportunity for many to see their own experiences played out on stage in poignant scenes, like the girl who stopped talking as a teenager after she was brutally raped by Khmer Rouge soldiers, and thirty years on the stigma remains with her and fellow villagers still look the other way out of shame and revulsion. Prins and her team have produced a play that many will find heavy because of its contents but which is based on fact, aided by DC-Cam, and put into a performance situation alongwith song and monkey dance to ensure there's something for everyone. I think it works brilliantly.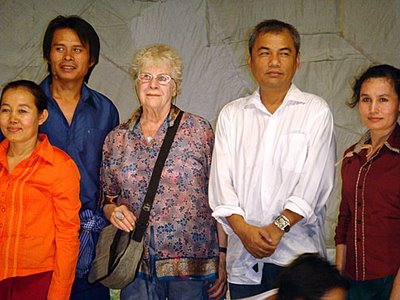 Director Annemarie Prins (center) and DC-Cam chief Youk Chhang (white shirt) on stage at the final curtain of Breaking the Silence
Labels: Bitter Khmer Rouge, Breaking the Silence, Chhim Sothy